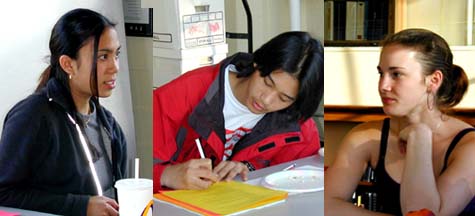 "Funding is the first step. Without that they have no power and push." —Abner, 18
SAN FRANCISCO—After school on this autumn afternoon, half a dozen students are gathered for their weekly meeting over Tostitos and popcorn in the converted industrial space that houses the Youth Leadership Institute (YLI). Traffic noise splits the air below, but their concentration is intense. Members of YLI's Youth Initiated Projects board, they are carefully reviewing requests from grant seekers looking to change their neighborhoods and schools.

"The main thing we look at is does it have a big impact," says Alejandra, 14. "What are the after-effects? Are those serious changes that they're doing?" Even with a well-planned and fun project, she explains, " if it doesn't have a positive impact, we can't really fund. One group wanted to have a festival to raise money for their group, but the money was for the festival, not to do education."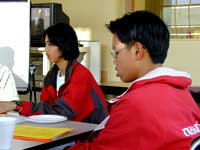 Across the Bay Bridge later that week, a group of young activists busily explores the other side of the funding challenge: how they can frame their plans for change to win approval from grant-making boards like Alejandra's.
"If you want to take action on something, one of the first things you run into is you need money," says Dante, 15, who wants to start after-school programs at his Oakland school. "It can be discouraging to go out and do fundraising even before you get started on the change you want to make. This gives you the energy by paying for the real work to get started."
In the complicated dance of philanthropy, where both grant-maker and grant-seeker speak of making every dollar matter, these two groups embody a new twist. Everyone involved is young. Supporting youth action and leadership infuse the process of proposing and awarding alike. And each participant knows well how unusual it is for teenagers to control this kind of money. YLI's various youth philanthropy grant-making programs gave out over $250,000 in four Bay Area regions last year, and it will disburse a similar amount in 2002-2003. Across Northern California, the amount of grants awarded by youth boards exceeds $600,000 annually. "It's interesting to have that power over a resource that we all need, and to be able to put that in the right place," says Yamini, 16, a board member.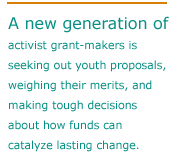 Nationwide, most efforts to foster youth philanthropy take a more traditional approach. Some foundations set aside a small fund for young people to give out to adult-led organizations, whether or not they serve youth directly. Others have youth advisory committees that review grant requests and make non-binding recommendations to adult-led boards. The goals differ as well: Some aim to fund youth community service, others to develop philanthropic leaders for the future or to bring youth to the table at major institutions.
With support from San Francisco's James Irvine Foundation, however, YLI and the California Fund for Youth Organizing, another new face in California youth philanthropy, are creating fresh capital. Through their efforts, a new generation of activist grant-makers is seeking out youth proposals, weighing their merits, and making tough decisions about how funds can catalyze lasting change. And as a new generation gains access to those crucial funds, young grant-seekers are also gaining the know-how to become important players in their own communities.
Learning to Craft Proposals
Grant-makers well know that their effectiveness depends on the quality of proposals they review, and so groups like the Youth Leadership Institute spend considerable energy teaching young activists the ropes before they ask for money. Gathered for a training session in an Oakland conference room, two dozen high school students using a case-study approach argue passionately about what strategy will work best to bring ethnic studies into the curriculum of their Bay Area schools.
Should they go for whole-school assemblies, the tactic that poses the least work for the faculty? It's more realistic, they agree, but may not be enough to achieve real dialogue and understanding.
Should they push the district for a multicultural course? Their own eyes light up at the prospect, but they can't decide how to muster school support for such an ambitious, long-term change.
Drusilla, 14, opposes a required course. "People are more likely to learn something they choose to learn," she says. "If there's already a lot of hate going around, making them take this course is just going to make it worse."
"But the point is to get everyone talking together," objects Charron, 17. "Requiring the course is the only way to get people who wouldn't otherwise be listening to each other."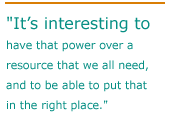 Reynaldo, 17, proposes a student-led class after school instead. "It would be simple and long term, and we could do it on our own without district support," he reasons. "It wouldn't come from someone who learned the stuff, but from someone who lived it."
After their long day of training, these young people speak with new pragmatism as well as passion. With seasoned professionals as their guides, they are shaping their dreams of improving school and community into viable action strategies.
In the next month, Charron will turn her idea for a student-produced video about racial and gender discrimination into a grant proposal for up to $5,000. Cole wants to apply for funds to help transform his San Francisco high school's antiquated language lab. Hoping to end homophobia and racism at her school, Drusilla dreams of staging a student production of "Romeo and Julio."
"Goals are big things out there, like 'students and teachers get along better,'" explains their coach, Matt Rosen, who oversees the planning and development of youth philanthropy initiatives at the Youth Leadership Institute. "To do that you have to take an action, like a project—for example, get them talking together somehow. You might not accomplish the goal with that one action, but you're coming closer."
Rosen introduces another case study, about school bathrooms in unacceptable condition, to steer the group into using research methods like surveys, interviews, group discussions, and documentary evidence. After a practice run with the adults in the room acting as subjects, the young grant-seekers evaluate each technique for its usefulness.
"From the survey, you might find out the bathroom is dirty," says Cole, 14. "But in order to find out why, and what to do about it, discussion groups might be better."
"In a survey, you're making up the questions yourself and you might not be getting the right point," Jennifer, 19, offers. "But on the other hand, with a survey you can reach all different kinds of people, not just a few."
Evaluating Proposals from Peers
The members of YLI's Youth Initiated Projects Review Board understand firsthand the struggles of planning and "what it really takes to put something together," comments Matt Rosen. Like two others on the board, for example, Sabrina, who facilitates this week's meeting, received funds last year for her own action project, a community center in her Latino neighborhood.
"Because they're young and understand where the grant-seekers are coming from," Rosen says, "they're in a particularly strong position to bring forward and connect with youth grant-seekers."
But learning to think like a grant-maker takes serious coaching, Rosen adds. For example, before it finally gets together to make funding decisions, the board must first conduct outreach to engage other youth in seeking money, organize youth-friendly presentations to set youth groups at ease, lead a two-hour grant-seeker workshop, and follow up proposals with questions and suggestions.
And at their weekly training session, board members also practice their facilitation skills and develop their capacity to critically assess the proposals other youth submit.
Above all, they have to put aside their sympathies and use clear-headed judgment. "There's no right or wrong," declares Abner, 18. "We have certain criteria."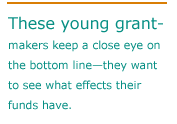 "Sometimes you have to call groups back and ask questions about certain things," says Alejandra. "You really have to think deep into that project."
YLI uses dilemma case studies to train Alejandra and her peers in just this kind of critical analysis. In one example, board members must choose the most effective way to fight sexual harassment: doing a 30-minute school assembly for 500 students or training five youth in how to organize to get teachers to enforce existing policies. Such exercises help board members "go beyond their opinion about what's good or bad about a project," Rosen notes, "and ask what makes sense, what's feasible, what fits with established criteria, what's most important among conflicting priorities."
Without such training and support, Rosen adds, the board might just "perpetuate the status quo, funding projects they really like, without talking in a thoughtful way about what to fund and why. They will defer to the loudest voice, and all their issues of marginalized youth will not get brought up."
But ultimately, these young grant-makers keep a close eye on the bottom line—they want to see what effects their funds have. "The young kids are starting to change," says Abner. "When I was growing up kids either went to school and moved away, or joined a gang. Now I'm hearing 'I want to be a firefighter.' You wouldn't have heard that from a young Latino growing up before. I think that's because of groups that provide more of a sense of community." He pauses. "Funding is the first step. Without, that they have no power or push."
Linking Youth Philanthropy to Youth Organizing
Last March, a slightly older group of youth philanthropists, mostly in their twenties and early thirties, gathered at a different funding table to hammer out plans for the newly created California Fund for Youth Organizing (CFYO). Launched three months earlier by a $300,000 grant to the Tides Foundation from the James Irvine Foundation, CFYO aims to grow this seed money into a fund to support youth organizing across the state.
What sets this group apart is not just its youth: none of the members of this 12-person advisory committee has ever given away funds before. But with many coming from immigrant communities, all are seasoned youth organizers. Among other issues, they have worked on campaigns to establish ethnic studies curriculum in schools, to allow undocumented immigrants to attend community colleges, or against the incarceration of non-violent teen offenders.
"Philanthropy, traditionally has been a closed, privileged world," notes Amanda Berger, one of the fund's founders. "But the CFYO allows for younger people to learn the ropes of grant-making, to interact more closely with a group of funders, and to apply their expertise about youth organizing directly to giving away funds."
Alex Tom, who at 26 is one of the youngest members of CFYO's board, endorses the novel approach. "We need to be on the streets and in the community and in the boardroom making funding decisions," he says. "What makes more sense? A board that is already doing the work to make the decisions or a board that vaguely understands the work?" [See full text of interview below.]
At this March meeting, the third in as many months, committee members study regional maps of youth organizing groups and the levels of foundation support available to them. Created over the past two sessions, the maps have shaped CFYO's strategy: to support youth organizing in under-developed and under-resourced areas of the state—notably Los Angeles, San Diego, and the Central Valley—through grants and technical assistance. Committee members also report on progress made towards enlisting other funders to join CFYO, honing grant-making criteria, and sorting through details of a technical assistance program that aims to link more established groups in the Bay Area and elsewhere with emerging efforts in the target regions.
"What stands out in CFYO is zeal," notes Amanda Berger. "Because they're not program officers and because they're youth organizers, they get things done very quickly. There's a lot of accountability. There's a perspective of respect and support for what youth really need."
CFYO invited 28 groups to apply for grants in early May, made site visits to each in July, and in August awarded $240,000 to twelve projects in Los Angeles, San Diego, and the Central Valley. One aimed to build a broad youth movement in Southeast Los Angeles to reduce industrial pollution and improve community health by organizing a yearly environmental justice youth conference. Another will support a San Diego campaign to introduce ethnic studies classes at three low-performing high schools and to create educational priority zones for failing schools. A third will help young people in Sacramento develop a youth agenda related to quality education, after-school programs, and public transportation. [See complete list of grants below.]
A Lever for Youth Development
The work of both the Youth Leadership Institute and the California Fund for Youth Organizing pushes to use youth philanthropy and youth activism as a direct means of positive youth development. On both the grant-making and the grant-seeking side, those involved say that it pays off.
"Youth organizing involves leadership training, but it also means getting people to use their education and their leadership skills to promote change in their communities," says Alex Tom, of the California Fund for Youth Organizing. "And more than just getting them from day to day as social services do, it's creating an incubator—leading them to understand that there are other opportunities, like going to college if that's what they want to do."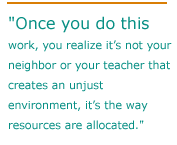 Brought up in the Bay Area by parents who emigrated from China and Taiwan, Tom himself began his activist career in high school when he attended a youth leadership camp. Now he helps organize Asian immigrant youth on workers' issues in Oakland, helping them see connections between a mother exhausted by a 12-hour work day and the systemic forces that make that happen.
"Once you do this work, once you understand the root of the problems in the community, you realize it's not your neighbor or your teacher that creates an unjust environment, it's the way resources are allocated," Tom says. "You stay in it because it's about your family and your community."
If they do leave an organization of youth leaders, he says, young people go on to create their own. "And as they become older they train new young people. Young people are becoming organizers, coordinators, and directors. Eventually they'll be in positions where they'll be the youngest board members of a foundation."
When that does happen, groups like these will have played a potent role in the achievement, Tom and others like him believe. "As long as philanthropy exists, it's going to be cultivated like a garden," he declares. "It's about bringing the power and muscle of money through youth to youth."
Contact Information:
Youth Leadership Institute
Matt Rosen
Associate Director of Youth Philanthropy
mrosen@yli.org
415-836-9160

California Fund for Youth Organizing
Patricia Soung
Program Associate, The Tides Foundation
patricia@tides.org
415-561-7844
Click below for the following story extensions: