---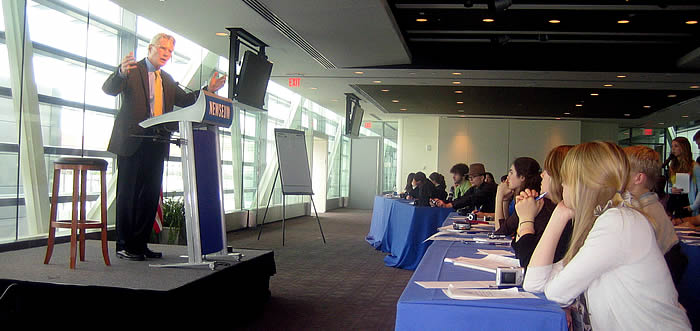 by Jordan Denari, Y-Press Reporter
INDIANAPOLIS, IN—As I stuffed my bag with mini cassette tapes, a digital recorder, a notebook, and a handful of pens and pencils, the nightly news anchors and daily newspaper headlines proclaimed that things were not looking too good for American journalism. The Rocky Mountain News had recently shut down, and many other papers faced the threat of closure. Public demand for written news was decreasing, daily newspaper subscriptions were down, and analysts predicted that the newspaper industry—the most respected outlet of journalism—might eventually disappear. It was under these seemingly grim circumstances that I packed my bags and traveled to Washington, D.C. for a journalism conference for high school seniors.
For the last ten years, Al Neuharth, the founder of USA Today, has invited 102 high school seniors from across the country to participate in the Free Spirit Scholarship and Journalism Conference. This annual five-day program focuses on equipping that year's Free Spirit scholars—a boy and girl from each state and the District of Columbia—with the motivation and tools needed to continue pursuing a career in journalism.
As school newspaper editors and local outlet contributors, the other seniors and I could have been disheartened by the negative news we were hearing about the industry we all hoped to join after college. However, our week spent visiting major news outlets and hearing from some of our country's most successful journalists ensured us that the changes occurring within American journalism might be a good thing for the next generation of reporting.
During the first morning of the conference, we met Betty Winston Bayé, a columnist and editorial writer for The Courier-Journal in Louisville, KY. With a wild head of curly black hair and a mouth lined in bright red lipstick, Bayé spoke to us about the two central and unchanging components of journalism: the stories and their storytellers.
The stories and the storytellers
Coming from a poor family in New York City and covering a range of issues throughout her career, Bayé knew the importance of telling the stories of people who could not tell their stories themselves. Just because the current era of journalism is fading out, she said, does not mean the stories of people will also disappear.
"If they kill every newspaper in America," she said, "there are still going to be stories that need to be told. And somebody needs to tell them."
Bayé explained that if these stories are still alive, then good storytelling must continue as well. Journalists must have a set of certain personal qualities they always carry, she said, no matter the potential changes in the type of media.
"If you love people, if you are compassionate, if you are courageous, if you are curious—nosey, nosey!—if you wanna get paid for minding people's business, this is the place to go."
It is also important for us not to lose the fundamentals, Bayé warned when she brought up blogs and other forms of new media. She was concerned that the Internet, which allows anyone to post news unedited, would cause young reporters to lose "the basic principles" of journalism, like researching extensively and writing grammatically.
Carol Knopes, a reporter and editor who previously worked at the Philadelphia Inquirer, the Detroit Free Press, and USA Today, had similar concerns when she spoke to us the following day. In her presentation on media ethics, she gave us several scenarios and questioned us about the correct actions an ethical journalist should take. Knopes explained that double-checking facts, avoiding bias and conflicts of interest, and writing clearly are things that cannot be left behind in the midst of all these media changes.
Media and new technologies
And despite the fact that most of the journalists we met throughout the week were primarily print journalists, they all saw the benefits of the forecasted media shift.
"You are coming in probably at one of the best times in journalism because you're coming in at a time of transition," Bayé said. "There's nothing like circumstances to create new revolutionaries."
Val Hoeppner, an expert on Internet and audio-visual media, showed us a number of ways we could take advantage of the new technologies. She used terms like "soundslides" and referenced video creation Web sites like Vuvox and Vimeo, names with which we will become more familiar as these media forms are more widely used. In Hoeppner's eyes, online journalism that incorporates sound and visual imagery will play a much more prominent role in the future of journalism.
Scrolling through the examples on her slideshow, Hoeppner praised some of the new media work of the Indianapolis Star, and I became excited. As a member of the Indianapolis-based youth journalism organization, Y-Press, I have worked closely with the Star staff on audio-visual pieces similar to the ones Hoeppner featured during her presentation. I was encouraged to realize that Y-Press is on the cutting edge of new developments in journalism, a place many adult news organization have not yet reached.
Bayé told us it will be vital for us as journalists to be able to work with all media forms, both old and new.
"We're back to a do-it-all kind of thing in journalism. We're not so compartmentalized…You've got to be multi-faceted," she said, suggesting that we must know how to take good photographs, record audio and video, and work computer programs, while also maintaining writing skills.
"For you, that's not going to be a problem," she added, hinting that because our generation has grown up with iPods, the Internet, and digital cameras, we will easily be able to navigate through the world of new journalism.
New opportunities
These changes might also open up areas of opportunity that may not have been as accessible before, according to a panel discussion about the future of news media. Interested in foreign correspondence but fully aware of the recent foreign bureau closings, I asked the panel about the likelihood of making a career in foreign journalism. The members of the panel—Ken Paulson, the president of the Freedom Forum, Orage Quarles III, a prominent newspaper publisher, and Gene Policinski, the vice president of the First Amendment Center—were optimistic.
Paulson explained that even though newspapers are eliminating foreign bureaus, they will still need journalists to report quality news from overseas.
"Because papers are cutting in these areas, free lancers and independent foreign reporters will be in demand," Paulson said.
Another of our speakers, Rick Jervis, began his career as a freelance reporter in Eastern Europe. He was later picked up by USA Today and reported from Iraq as the newspaper's Baghdad Bureau Chief.
Paulson's statement and Jervis' experience both suggested that a career in foreign correspondence could be realistic and successful. Rather than hurting my chances, the shift in journalism might actually improve my prospects for a career, especially since I have strongly considered freelance or independent reporting.
Transitions
In a brief visit following a taping of Meet the Press, David Gregory talked about the importance of his generation providing "proper training for the next." After sharing their knowledge and experience with us, the adult journalists felt confident that we could move journalism into a new and successful era.
Bayé believed that our presence at the conference was the starting point for this evolution.
"You are here, and you make me hopeful that this industry will survive; it will be transformed because you're here."
Soon after I returned home from the conference, I was listening to All Things Considered on NPR. The story was about the threat the New York Times Company was making about closing The Boston Globe if the newspaper did not increase its savings drastically. At first, the thought of this major paper's disappearance frightened me, but then I thought back to my week at the Free Spirit conference and what Bayé had said to us.
"Don't buy the hype that it's all over. I want you to be a part of a wonderful transition and for you to create the world…I don't want you to just be dreamers—I want you to be storytellers."
Are you a high school senior interested in journalism? To learn more about the Free Spirit Scholarship and Journalism Conference Program, visit www.freedomforum.org/freespirit. Application forms for the 2010 conference should be available soon.