---

PROVIDENCE, RI— In a storefront on Providence's south side, ten high school students sit down one evening to a curriculum they won't find in school: how to promote nonviolent social change. For the next two months, they will learn everything they can about violence prevention and workshop facilitation—and then pass on that knowledge to younger teens.
It may seem a titanic task—but that's just right for these new members of TITAN (Teens Informing Teens About Nonviolence), one of several peer education programs at Youth In Action, a local youth development organization.
"We'll start with the six principles that will guide everything you do here," says Erroll Lomba, the thirty-something youth organizer who oversees peer education here. In keeping with YIA practice, he turns the rest over to TITAN's two youth Co-Coordinators.
"It's all about "G [good] Behavior" and "Scrub" [bad] Behavior," explains Monay Threats-McNeil, who at 15 has risen through the ranks to facilitator. She and her "co," Oluwaseun (Olu) Animashaun, also 15, point to the wall chart where they have listed the six principles and the good and bad behaviors tied to each.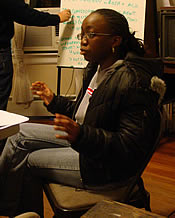 "What's the good behavior here?" Monay asks when she reaches the fourth principle, "supreme professionality."
"It's about doing things for the betterment of the team, even when you don't like it. Like, when you have an issue, handling it in a cool and calm manner," says Masha, a high school sophomore.
And the negative behavior? Olu answers her own question:
"It's taking things personally, shutting down when a co-worker or staff asks you to do something. If we ask you to do something, you need to see that it's for the good of the team and yourself. We're not doing it to be mean, we're not doing it to be upright and righteous—we're doing it for the betterment of the team. Don't take it personally. Just do it. Then find the right moment later on to handle in a positive way what you didn't like about the situation."
"This is the easy part," Monay tells the group as they finish. "Here's the hard part: You have to internalize every one of these principles. We're here to help you with that, we got you. But it's up to you to work on the stuff that stops you from doing all the great things you can do."
Putting youth at the helm
For almost ten years, the Providence nonprofit Youth In Action has captured the attention and passion of young people like Monay and Olu, hungry to create positive individual, community, and social change. It is a partnership among youth, adults, and the community—with youth at the helm. The youth participate in leadership training and then lead and manage YIA's community outreach and educational programs. Two youth co-coordinators lead each team, hiring, supervising, and training their teenage staff. YIA youth write grants, meet with city and state officials, and raise funds to support their work. They mentor younger students in academics, pressing them to aim for college. Youth make up the majority of YIA's board of directors, which includes ten youth and five adults.
"My heart lives in this work," says Adeola Oredola, YIA's executive director, "because I know how it has made a difference in my life." She grew up in the same Providence neighborhoods and attended the same city schools as the youth who fill the three-family tenement that serves as YIA's headquarters. And, for as long as she can remember, she has shared the same drive to make a difference. At 23, Oredola became the youngest person ever to sit on the Providence School Committee.
Oredola sets out a spacious vision for YIA. "By collectively elevating youth as critical thinkers and decision makers," she declares, "we will create a city of actively engaged young people transforming the policies and systems that affect them—creating a culture of progress, hope, and action."
To date, Youth In Action has given more than 700 youth a chance to exercise their highest level of leadership. It has reached more than 10,000 Providence youth with health education, violence prevention, arts activities, and community renovation projects. Ninety-eight percent of YIA graduates have gone on to college.
Thinking critically about what moves change
Having explained and discussed its six core principles, this year's TITAN team has now passed the one-hour mark at its first training session. "It's time to start learning about the origin of social justice movements in America," says Erroll Lomba. "It's time for you to begin thinking critically, to distinguish between myth and reality and what moves change."
Olu and Monay pass out an article by education activist Herbert Kohl, "The Politics of Children's Literature: What's Wrong with the Rosa Parks Myth." Group members take turns reading aloud, stopping to reflect on what they read or to clarify words or phrases they don't understand.
From the end of the table, DeLong reads, "To call Rosa Parks a poor, tired seamstress and not talk about her role as a community leader is to turn an organized struggle for freedom into a personal act of frustration."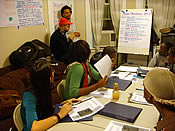 "Okay, stop for a second," says Lomba. "Let's take a minute to reflect on this sentence. What's it mean?"

Maria: "Her act wasn't personal, it wasn't random or accidental."
Pirom: "It was intentional."
Delong: "She wasn't just your average Joe. She wasn't just one person."
"You got it," says Lomba. "It's the difference between an act of frustration versus an organized attempt at freedom. It's critical that you guys don't rush by this, that you learn to recognize the difference between myth and reality, between stubbornness and civil disobedience."
By the time the group winds up its reading, this first training session has run thirty minutes past its scheduled close. No one seems to mind. Learning the real Rosa Parks story—a story of collective decision-making, willed risk, and coordinated action—has energized them far more than the standard version story of a tired, stubborn woman who sparked a demonstration. As Kohl writes, the real story "has much to teach children who themselves may have to organize and act collectively against oppressive forces."
"We'll return to this point again and again," says Monay. "It is a blueprint for a lot of things we will do. It's what Youth In Action is about."
Passing it forward
Two months later, the TITAN team gathers a group of Providence middle school students for the first of four weekly after-school "teachings" on violence prevention, each two hours long. TITAN targets middle-schoolers because research shows that this is the age where kids—especially those in tough neighborhoods and schools—start to choose their stance on violence.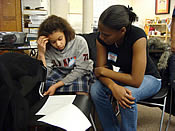 Knowing that its first session will set the tone and expectations for the course, the team has prepared a series of activities: introductions, ground rules, icebreakers, a pre-test survey, small-group work to define violence. Kids will listen to a popular rap song and tally up its violent words and acts, then process their work as a large group before a final wrap-up.
Watch the video clip of the first session.
To start, they practice Youth In Action's "bug in" tradition: a brief introduction and check-in with a closing "bug out!" Pirom demonstrates: "Bug in: My name is Pirom, I'm 16, I'm in the eleventh grade, I go to Health, Science, and Technology High School, and my day has been very long and tiresome. But you know what—I'm still full of energy and ready to do this. Bug out!"
TITAN warms up the room by having everyone physically sort and re-sort themselves by categories like height, shoe type, and ethnicity. In time, the group splits in half and moves to the floor, instructed to "Write what comes to mind when you hear the word violence."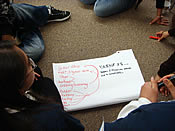 Spurred on by TITAN members, the middle-schoolers slowly start marking on their large blank sheets: Gangs. Drugs. Fighting. Guns. Soon, the words pour out faster than they can write: jealousy, anger, "the streets," "(bad) corners," screaming, inappropriate physical contact, verbal abuse, wrong actions, stealing, sadness, hurtful feelings, bad decisions.
In a quick debrief afterwards, the TITAN team reviews the session. They agree that the introductions and icebreakers went well. They worry that they spent too long in small groups defining violence. They suspect that they tamped down discussion by giving the impression that there was just one "right" definition.
Switching gears
As director Adeola Oredola looks ahead at the next five years, she talks of Youth In Action switching gears. "We've been revising our mission, making social action more primary," she says. "It used to be secondary, with youth development first. But we've realized that the community needs to get better for youth if young people are to build on the skills they develop at Youth In Action."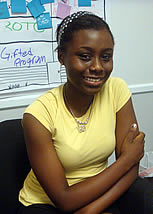 YIA and a handful of other Providence organizations committed to youth empowerment have formed the Youth 4 Change Alliance (Y4C) to shake up the city's entrenched resistance to involving youth in policy and organizing. Taking each organization's insights about supporting youth leadership, Y4C will bring them to the community at large. It will press campaigns for change concerning issues youth deeply care about, like violence prevention.
"Young people talking, raising and bringing data to bear, being visible, being heard—this is our vision for the coming years," Oredola concludes.
The youth for whom YIA has become a second home say they are ready for this bigger role. They have become smarter and more courageous, they assert—more able to think critically and to engage adults. "I've grown so much by being here," says Olu.
YIA "holds true to what it advertises," Monay says. "It really believes that youth can do big and positive things. We've seen youth creating change in Providence. And when youth leave YIA, they take that with them. They leave believing in change and their power to make it happen."
Other member's of Providence's new Youth 4 Change Alliance include: Direct Action for Rights and Equality (DARE), the Providence School Department's District Wide Student Government (DWSG), RI Service Alliance's Project 540, Providence Youth Student Movement (PrYSM), Young Voices, and Youth In Action (YIA).