---

LEFT: High-school students protest Trump in New York, shouting, "We vote next!" Anik Rahman/Nurphoto/Getty
RIGHT: Westminster (Md.) High Schools students challenge administrative order to remove classroom posters promoting diversity, deeming them "anti-Trump." Pedro Pardo/AFP/Getty
---

SHOUT OUTS | ARCHIVES
The Youth Group That Launched a Movement at Standing Rock
In the fight over the Dakota Access Pipeline, Native American activists achieved one of the most galvanizing environmental victories in years (until the Trummp administration voided it) — and it all began with a group of teenagers, reports The New York Times. But it wasn't the pipeline that got them started. The impetus was a tidal wave of suicides among Lakota youth (Native American teenagers and young adults are 1.5 times as likely to kill themselves as the national average.) When the wave broke, the youth group, now called the One Mind Youth Movement, turned to something more political: the Dakota pipeline. The youths came to believe that the Dakota pipeline was not only a threat to their drinking water but also a harbinger of the larger environmental crisis their generation was set to inherit.

First Amendment Support Climbing Among High School Students
Support among American high school students for the First Amendment is stronger today than it has been in the last 12 years, according to the latest in a series of large nationwide surveys of the nation's rising voters. Some 91 percent of high school students say they believe that individuals should be allowed to express unpopular opinions, according to a Knight Foundation survey of nearly 12,000 students conducted last year. The survey is the sixth in a series, the first of which was carried out in 2004, when 83 percent supported such rights.

Teenagers Against Trump
On the same day Betsy DeVos was confirmed as the Secretary of Education, hundreds of high-school students in New York City walked out of their classes and gathered in downtown Manhattan, an article in The New Yorker notes. Originally announced as a response to Trump's ban on travel from seven Muslim-majority countries, the walkout turned into a protest against DeVos, too, as the news of her confirmation spread among the youth. Hebh Jamal, the seventeen-year-old Palestinian-American high-school senior who had planned the day of action, yelled: "She wants to destroy education, but we're here to say: education, not deportation!" Many of the homemade signs students brought to the rally expressed their opposition to DeVos: "Straight A student skipping (public) school, Betsy DeVos is a fool."

Here's What Three Student Protesters Had to Say about Immigration, Education and Betsy DeVos
Here's another account of the Manhattan rally from the magazine Chalkbeat: "Hundreds of New York City high school students walked out of class on Tuesday to protest President Donald Trump, filling Manhattan's Foley Square with chants of 'No hate! No fear! Refugees are welcome here!' Many said they had ventured into the cold rain to stand in support of immigrants and against Islamophobia. 'School is very important to most of us. And skipping something that is required just shows that we care about this protest a lot,' said Samira Mautushi, 16, a junior at NYC iSchool in Manhattan. It was the second walkout that Beacon School senior Hebh Jamal, 17, helped organize since Election Day. 'Even at our age, we should be able to demand things,' she told Chalkbeat ahead of the rally. 'Students, collectively, care.'"

Hundreds Protest State Legislation Outlawing Sanctuary Cities
On March 1, high school senior Rocio Ramirez tearfully told a large crowd at the capitol building in Austin, Texas that her father had been deported two weeks ago. "I'm just here to show through what I am going through," Ramirez said. "It's so difficult on me since I am the youngest and my sisters and my brother are studying." That morning, Ramirez and other students had joined a Day of Action for Immigrants and Refugees, a demonstration mainly protesting state legislation outlawing cities from protecting undocumented immigrants. "I'm going to continue studying and hopefully I get a job so I can help out my mom," Ramirez said. "I continue studying because … what he came here for was for us to have a better life than he had."

Students Fight Back After School Asks Teachers to Remove 'Anti-Trump' Pro-Diversity Posters
Students at Westminster High School, Maryland are taking a stand after school administrators demanded that teachers take down posters promoting diversity from classrooms, deeming them "political" and "anti-Trump." The posters were from the famous "We the People" campaign by artist Shepard Fairey, which depicts Latina and African-American women, as well as women wearing Muslim hijabs, using the same red-white-and-blue scheme of the "Hope" election posters featuring Barack Obama. When first challenged, the teachers responded that the posters spoke to diversity and were allowed to put them back up. After further "research," school system officials deemed them anti-Trump and asked teachers to once again take down the posters because teachers are not permitted to take a political stand in the classroom.

Youth Radio Podcast: Immigration
A recent podcast from the award-winning Youth Radio explores how Japanese Americans are responding to the Trump administration's new policies around immigration and deportion, recalling their own experiences and those of their parents during World War II, when Japanese Americans suddenly found themselves being rounded up and sent to internment camps. They talk about the "racism by small cuts" that accompanied this time and how questions about what it means to be American and to be Japanese still color their world. They wonder how best to stand up for Muslims who now face the same persecution that created Japanese-American internment camps like Manzanar several generations ago. This is not what America is meant to be about, they said. It is a crime against humanity, they agreed.


Niagara Falls High School Students Talk Trump
When Buffalo's NPR station recently interviewed local high school students about what's on their minds, students said President Trump has dominated conversations in their classrooms and hallways. "I feel like we talk about him almost every day," declared one senior. In the midst of questions about social media and cyberbullying, students became most animated when they talked about this historic presidency. "I think Trump should have never became President, clearly for the reason that he's not qualified to be President, because he has no political background," explained another student. "He said celebrities should stay out of politics, and he should follow his own advice."

---
SOME TEACHING RESOURCES FOR THE TRUMP ERA
Perspectives for a Diverse America
Teaching Tolerance's free Perspectives for a Diverse America is a literacy-based curriculum that marries anti-bias social justice content with the rigor of the Common Core State Standards. Teachers can: (1) drive student learning with a question aligned to your instructional goals; (2) browse a carefully curated collection of rigorous texts that exemplify anti-bias themes; and (3) build literacy skills and active citizenship with activities and assessments designed to help students deeply engage the text.
Teaching and Learning with The New York Times
The New York Times' Learning Network has a section of lesson plans devoted to civics and another on current events. They are typically thoughtful, thorough, and provocative. A recent lesson, for example, addresses governmental checks and balances and the Trump administration; another asks students to evaluate news sources in a "post truth" world.
Facing History and Ourselves
For more than 40 years, Facing History has engaged students of diverse backgrounds in an examination of racism, prejudice, and antisemitism in order to promote the development of a more humane and informed citizenry. Best known for its curriculum about the Holocaust, Facing History also explores the topics of democracy and civic engagement, justice and human rights, antisemitism and religious intolerance, bullying and ostracism, and global immigration.
---
IMMIGRATION STORIES FROM OUR NATION'S YOUTH
For more than a decade, WKCD has supported students and teachers as they gather and share the stories of immigrants in their community—along with their own experiences as young refugees and immigrants. Their voices, filled with hardship, humility, and hope, seem more compelling than ever.

Forty-Cent Tip: Stories of New York City's Immigrant Workers
Ten years ago, WKCD published a remarkable book by students at three NYC international high schools. Like their subjects, the youth were all newcomers to America. Coached by their teachers and equipped with voice recorders and digital cameras, they spent a year documenting the lives of immigrant workers in their own neighborhoods. An Afghani taxi driver, a Chinese manicurist, a laundromat worker from Indonesia—these were among the immigrant workers who told their stories of struggle to Forty-Cent Tip's teenaged authors.

Maine Students Document the Human Rights Stories of Local Immigrants
In 2007, when humanities teacher Susan McCray challenged her students at Casco Bay High School in Portland, Maine to become human rights documentarians, they were stepping into the unknown. They ended up spending the year researching human rights crises around the globe, as well as interviewing and photographing immigrants from places like Somalia, Sudan, and the Balkans, among others, who now live in Portland. Note: On January 30, 2017, 300 students at Cascco Bay High School marched in solidarity with four classmates who had been targeted in a hate crime.

The Legacy of Cesar Chavez: Chicago Students Gather Immigrant Stories
Civil rights activist Cesar Chavez once said, "The end of all education should surely be service to others." Several years ago, high school students around the country participated in a month of service learning projects in his honor. In Chicago, students first learned about Chavez's legacy and immigrants' and workers' rights and then interviewed immigrants preparing for their citizenship exams. The students, many immigrants themselves, recorded and broadcasted their stories on Chicago's Radio Arte.

Home? Teen Refugees and Immigrants Explore Their Tucson
Amidst Trump's immigration executive orders, Tucson, Arizona recently announced its determination to remain "immigrant friendly." Ten years ago, students in Julie Kasper's ESL classes at Catalina Magnet High School in Tucson, Arizona—all refugees and immigrants—explored the concept of "Home" through photography and writing. Coached by photographer Josh Schachter, they captured daily life in their new neighborhoods—a boy sitting alone outside his house, a Sudanese family eating dinner, a neighbor sleeping after a hard day's work.



Immigrant Students Use Cartoons to Share Their Journeys
At Oakland International High School, new students arrive each week. For many, OIHS is their first school in the United States. Refuges of violence, war, and poverty, each of these students has a story. Not all of them have a way of communicating it. A few years ago, OIHS art teacher Thi Bui invited students to tell their immigration story in the form of a comic. Each of the 23 comics—stories of loss and hope—answers the question, "Who am I?" and, collectively, the question "Who are we?" Their book will break your heart.


---
WKCD COLLECTIONS | ARCHIVES
For 15 years, from 2001 to 2016, WKCD reached far and wide to document and broadcast the voices and vision of the next generation, supported by the adult allies in and outside school that these youth counted on. We began with a determination to share "feature stories" about what we called "powerful learning with public purpose." Over the years, we produced more than 300 of these stories, with generous funding from a host of foundations who shared our commitment to youth as knowledge creators and citizens. For a directory of these stories, click here. You can also enter key words in the search box at the top left of this and every page.
Early on, we also became involved in multi-year projects targeted at youth learning and perspectives: going to college when you are the first in the family to go, the conditions of learning that help students thrive, diversity, social and emotion learning, global understanding, service learning, school reform, and more. Below are descriptions and links to these diverse collections.
The left column of this homepage includes quick links to many of these collections, along with links to other WKCD websites and to a range of small WKCD publications. The right column connects to WKCD's nonprofit publshing arm, Next Generation Press, and its 17 titles with youth as co-authors.
While WKCD continues to take on a small number of discrete, new projects—like creating an advisory curriculum built on social and emotional learning—we are, by and large, not adding to the collections described below. They remain vital, we believe.

College Matters: Supporting Low-Income and First Generation Students
What does it take to get to college, especially if you are the first in your family to go? What stands in the way? What supports do students need? For more than a decade, WKCD has turned to first-generation and low-income students around the country for advice on how to make it to college and succeed once there. We've then passed this advice on to those following in their footsteps and the parents, teachers, and counselors who guide them. Our "First in the Family" initiative, a collaboration with Lumina Foundation for Education, includes websites, multimedia, downloads, feature stories and special research projects with high school and college students as partners. Our First in the Family: Your High School Years and First in the Family: Your College Years have sold more than 200,000 copies.

Global Youth Voices
In 2005, WKCD's Barbara Cervone traveled to a small village in Tanzania to work with secondary students on creating a photo essay about life there. Since then, we've supported more than two dozen photo journalism projects with youth on four contintents, some as part of a multi-year collaboration with Adobe Youth Voices. The youth contributing to our Global Youth Voices collection has included affluent teens in Beijing along with the sons and daughters of coffee farmers in rural Ethiopia; young Burmese refugees in a Bangladesh border camp along with university students in cities across Hungary. They remind us of the complexities of culture and politics—and how they infuse what we value, what we take for granted, and what amazes us.

Great American Dreaming
As we saw in the 2016 U.S. Presidential Election. immigration has become a tinder box, with raw emotions and fear making civil discourse near impossible and mass deportation thinkable. Almost every community in the U.S. has become a home to new immigrants, with the promise and challenges they bring. One way to engage students in this critical debate is to have them gather the stories (and images) of immigrants near at hand. WKCD learned this when we coached and then published such work by New York City students in our photo essay book Forty-Cent Tip: Stories of New York City Immigrant Workers (2006). Great America Dreaming also includes stories, photoessays, monologues, and cartoon narratives about the immigrant experience produced by high school students in Chicago, Tucson, Oakland, and Casco, Maine.

How Youth Learn
How do youth learn best in the high school years? What "conditions of learning" help students thrive? In 2013, WKCD developed a special website to capture decades of research on adolescent learning, along with the results of our own investigations. We found that good learning involves direct experience, especially deep immersion in a consequential activity. Motivation is strongest when it emerges from the young person's prior knowledge and interests, when it springs from the task itself, and when it is driven by a desire for mastery and by identification with others who do it well. Learning flourishes when it is social; when it occurs as a shared activity within meaningful relationships; and when it allows for increasingly responsible participation. Our How Youth Learn website includes research summaries, student voices, exemplary practices, and educator resources

Just Listen!
It's easy for educators to make assumptions about how their students experience school—but they often miss the mark. That's what sparked WKCD's 2012 Just Listen series of video clips (200 in all), in which high school students speak directly to viewers about teaching and learning. Averaging one minute in length, they convey kids' thinking in a way that is easy to share and talk about with others. The videos, supported by MetLife Foundation, show that what young people say they want for themselves aligns closely with what we say we want for them: stimulating classes; good relationships with their teachers; appropriate learning challenges, success in high school, college, and beyond.
In Our Global Village
In 2007, after the publication of the photo essay book In Our Village: Kambi ya Simba Through the Eyes of Its Youth, WKCD's Barbara Cervone teamed up with international service learning consultant Cathryn B. Kaye to invite young people across the globe to document daily life in the places they call home. In the years since, youth ages 8 to 19—from North Hollywood to New Orleans, from the jungles of Nepal to San Francisco's Tenderloin district—have gathered the stories that mean the most to them. The In Our Global Village program now includes close to 60 photo essay books, and the program continues to grow. We've created a "how-to" manual for teachers, along with a virtual library that allows readers to flip many of these books.

Mentors that Matter
Who are the significant adults in the lives of teenagers, beyond the home and classroom? How do they reach out to youth, and why? More than a decade ago, youth across the nation gave their answers, as they interviewed, photographed, and publicly honored Mentors That Matter in four cities (Chicago, Providence, San Francisco, and Tampa). They nominated people from all walks of life—artists, coaches, public officials, even a school bus driver and a hair stylist—who show that they care about "other people's children." In collaboration with MetLife Foundation, the WKCD initiative developed literacy, communication, and photography skills in some 200 students who participated. It also underscored how much young people value adults who reach out to share time and expertise with them.

Practice Project
In 2009, WKCD's Kathleen Cushman posed the question "What does it take to get really good at something?" to over 200 young people across the nation, inviting them to become researchers of their own learning. Starting with the things they already knew and could do well, they analyzed the process that all learners go through when they take up new things and work toward mastery. This onging dialogue soon became a body of work we called the Practice Project — including our book Fires in the Mind, in which adolescent students talk about what motivates them to work hard at a challenge. "Getting good" was how these young collaborators refered to the journey toward mastery.

Service Learning
Too often we hear how "kids today" simply don't make the grade. When teens do manage to wrest praise from adults, it is often for what they don't do—for toeing the line—rather than for the positive things they can do. From the start, WKCD aimed to spread a more capacious view of "what kids can do"—a vision that made room for real-world problem solving, teamwork, character and citizenship, learning from mistakes, creativity, social justice, and contribution. Service learning rovides a wealth of exemplars of the sort of powerful learning with public purpose that WKCD has championed. Here is a directory of feature stories about service learning produced by WKCD over the years.
Social and Emotional Learning
What would it take to weave social and emotional learning (SEL) into the daily fabric of our nation's high schools? In 2013 and 2014, with support from the NoVo Foundation, WKCD studied effective practices in five American high schools that, by their own design, put social-emotional learning at their core. We created multimedia to capture student voices in these schools and we assembled selected SEL resources for educators. In an Education Week commentary, we summarized the implications for public high school education. We gathered our findings and stories in Belonging and Becoming: The Power of Social and Emotional Learning in High School (Harvard Education Press, 2015).

More recently, WKCD published a monthly feature called Short Workouts for Social-Emotional Learning, geared towards middle and high school students. May 2016 | April 2016 | March 2016 | February 2016 | January 2016 | December 2016

Student-Centered Learning
What does teaching look like when it truly centers on the student's learning needs? As one of nine research teams for Students at the Center, an initiative by Jobs for the Future and the Nellie Mae Foundation for Education, WKCD's Barbara Cervone and Kathleen Cushman spent a year interviewing and observing teachers, students, and administrators in six diverse middle and high schools, experienced in student-centered learning. Despite their differences, the schools all shared a common foundation of practice. Student-centered learning—where adolescents exercise both choice and responsibility—demands a new approach to teaching, which involves facilitating and coaching more than direct instruction. Student-centered teachers develop a fresh relationship to their craft, playing multiple roles and always learning new skills.

Students as Allies in School Reform
The refrains are familiar. School is boring, students complain. It's hard to see a connection between what we're taught and the real world. Students are unprepared, teachers say. Too much of teaching is really just classroom management. What would it take for students to become stakeholders not just in their own success but also in that of their teachers and schools? In 2003-2004, with support from MetLife Foundation, WKCD launched its "Students as Allies in School Reform" initiative. In five cities, we helped students and teachers conduct survey research about their own schools and supported dialogue and constructive action around their research results. Our surveys have been downloaded more than 200,000 times from WKCD.org—by teachers, education students in college and graduate school, and student groups.


Student Research for Action
From 2003–2006, WKCD had the opportunity to help students and teachers nationwide to conduct ambitious student "action research" projects targeting critical education and community issues. The Bill & Melinda Gates Foundation provided the financial support. The initiative exemplified two of WKCD's core beliefs: that what happens inside a school's walls should connect to the world outside and that young people have the capacity to reflect, analyze, and create new knowledge that can then improve their schools and communities. Over the course of three years, WKCD awarded 49 grants, in amounts ranging from $500 to $4,750, to a total of 52 individual schools in 17 states. The products of the students' research—several books, videos, reports, new programs, surveys, powerpoints—still attract attention, more than a decade later.

Student/Youth Voice
When WKCD embraced student voice as part of our guiding principles in 2001, the idea that youth should be welcomed as crucial investors in improving their schools and communities had few advocates. The research on the power of student engagement was commensurately sparse. In contrast, WKCD set out to celebrate and support youth as collaborators in our books and other publications (e.g., our "Fires" series); in survey projects nationwide; in more than 75 grants to student research groups across the globe; and in the feature stories we produced for this website. We learned that meaningful student voice must: be inclusive, be woven into the daily fabric of school, target substantive issues, involve asking and listening by all parties, and lead to constructive action.

Voices from the Middle Grades
What do students in the middle grades most need from their teachers? WKCD offered their answers in a sequel to our groundbreaking book Fires in the Bathroom—this time, listening to the voices of early adolescents. Talking in depth with 40 students in middle grades around the country, WKCD's Kathleen Cushman asked them questions like: What helps you want to try hard in school—or keeps you from doing so? How can your teachers help you deal with social issues and pressures you face? When it comes to your parents, what do teachers need to know and do? How can teachers prepare you for the transition to high school? To interpret their answers, Cushman teamed with Laura Rogers, a developmental psychologist at Tufts University who worked in middle schools for 13 years.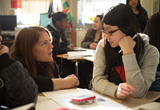 and the power of social-emotional learning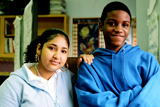 Helping your child succeed
English and Spanish
OTHER WKCD SITES

. . . blog by Kathleen Cushman
. . . research, resources & more
. . . advice about college
. . . student action research
. . . Kambi ya Simba, Tanzania
SPECIAL COLLECTIONS

Students as Allies in School
Reform
POPULAR WKCD PUBLICATIONS (PDFs)

A Guide to Creating Teen-
Adult Public Forums
Cultural Conversations through Creative Writing
Documenting Immigration Stories
First Ask, Then Listen: How Your
Students Can Help You Teach
Them Better
Making Writing Essential to
Teen Lives
Profiles of Politically Active Youth
Queer Youth Advice for Educators
Teachers at Work: Six Exemplars of Everyday Practice
POPULAR WKCD VIDEOS



Ned's Gr8 8: An Insider's Guide to the Teenage Brain

Who We Are: First-Generation College Students Speak Out

Hear Us Out: Seattle Students Talk About Going to College
WKCD VIDEO
COLLAGES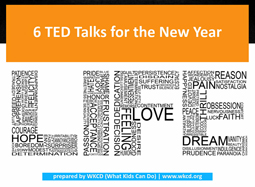 Six Ted Talks for the New Year
have a story for wkcd?
Want to bring public attention
to your work? WKCD invites
story ideas from youth and
educators worldwide.
Write to us >»
"The first object of any act of learning, over and beyond the pleasure it may give, is that it should serve us in the future. Learning should not only take us somewhere; it should allow us later to go further more easily."
- Theodore R. Sizer,
educator (1932-2009)
"Education is not the filling of a pail, but the lighting of a fire."
- William Butler Yeats
"The function of education is to teach one to think intensively and to think critically. Intelligence plus character - that is the goal of true education."
- Martin Luther King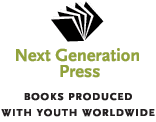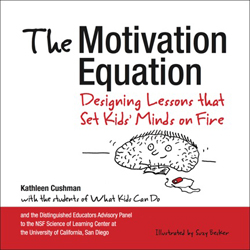 IN OUR GLOBAL VILLAGE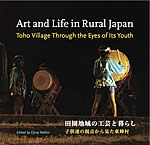 YOUTH COMMENTARY AND VISION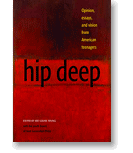 FIRST IN THE FAMILY


ADVICE TO PARENTS AND PRINCIPALS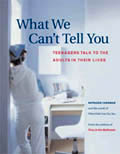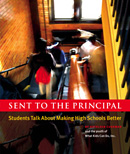 Preview and order from our current list of 16 titles >>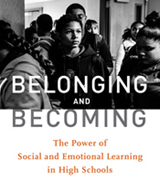 ALSO SEE OUR BEST SELLING "FIRES" SERIES