---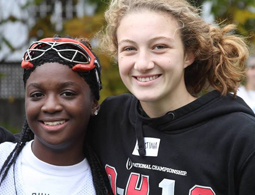 Harlem Lacrosse: Lessons About Learning, On and Off the Field
Jessica, a sixth grader at Harlem's Sojourner Truth School, was in tears. Her English teacher had just rejected the essay she'd turned in because she hadn't followed the assignment. Seeking consolation, Jessica turned to an unlikely source: her lacrosse coach, Alyssa Palomba. "Of course she got mad at you," said Palomba, as she huddled with Jessica in a room stacked with lacrosse gear on the school's third floor. "She told you to do A and you did B. That's like when I ask you to play attack and you play goalie instead."
For five years, the school-based Harlem Lacrosse and Leadership (HLL) has supported and challenged struggling middle school students, on and off the field. First alums have won scholarships to some of the nation's most elite private schools. Here, the program's young staff dig deep into what makes HLL successful.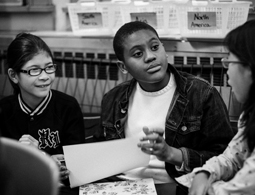 This Is My Place: Middle Schoolers on Social and Emotional Learning
What most helps young people thrive in a challenging academic environment? Answers from students bear out what research has found: social and emotional factors constitute a crucial underpinning for learning. In this short audio slideshow, middle schoolers at School of the Future in New York City give their own examples of how everyday interactions between students, peers, and adults affected how they learn in the classroom. Their descriptions reflect some key unspoken questions that adolescents bring with them into a school environment: Will I able to do the work here? Will I be smart enough?
Short Workouts for Social-Emotional Learning | FEBRUARY 2016
Here's a new installment of our monthly feature, Short Workouts for Social-Emotional Learning for middle and high school students. February's "collection," like the others, includes ten workouts, and each workout takes 10-15 minutes, making them a suitable bell ringer, warm up, or advisory activity. We've created four categories: quotations, questions, video clips, and photographs. There is no formula for using these workouts with students (just as there are no right or wrong answers). Mix them up and sprinkle them into your ongoing work, knowing that your students will embrace the chance to flex their social-emotional muscles.
February 2016 | January 2016 Workouts | December 2015 Workouts
---

SHOUT OUTS | ARCHIVES
| | |
| --- | --- |
| | In this short documentary, a 17-year-old Syrian films an intimate portrait of life in a Jordanian refugee camp, where she has lived for three years with her mother and six siblings. "Iím filming from my own personal perspective,"Khaldiya explains. "I live in the camp, I am within the camp, and I know the camp. An outsider will miss a lot of the deeper meanings because they havenít felt what itís like to live here." |
We all remember the ďbad kidsĒ from high school: the pregnant teen, the kid who was always getting into fights, the truant student, or the one who just couldnít keep up with the rest of us. We take kids who canít seem to stay on track and write them off, dismissing them with summary labels. This Op-Doc video profiles one of those kids, a talented art student named Summer Jordan, who attends Black Rock High School in the Mojave Desert town of Yucca Valley, California.

The Only Girl in School to Spark an Interest in Welding

Kalei Kipp is the only girl in the welding program at Cedar Crest High School in Pennsylvania. ďItís different from every other class thatís offered at the school, and itís kind of dangerous and neat,Ē explains Kalei, who is considering a career in welding. This short documentary video was made by students who are part of PBS's Outside the Box series, aimed at challenging gender stereotypes.

Ten Things I Learned From New York City's Youngest Voters

WNYC is engaging in a year-long set of conversations with young voters, the high school class of 2016, who are just turning voting age. "Young people don't vote!" you say. That may be true, but what young people say today lands in the zeitgeist tomorrow. The first installment in this series is gleaned from three months of conversations with seniors at Curtis High School in Staten Island, Millennium Brooklyn High School, and Bronx Collegiate.

Students Say Racial Hostilities Simmered at Historic Boston Latin School

With court-ordered desegregation of public schools unfolding violently across this city in the mid-1970s, Boston Latin, then about 90 percent white, began admitting more minority students, remaining a place of relative calm in a city engulfed in protest. But in the last two weeks, the school, a beacon of high achievement founded by Puritans in 1635, has emerged at the center of a new discussion of racial tensions.
---
RECENT/POPULAR FEATURES

Belonging and Becoming: The Power of Social and Emotional Learning in High Schools
"In this engaging new book, Barbara Cervone and Kathleen Cushman capture five compelling cases, teaching us that thoughtful, purposeful integration of social and emotional learning combined with rigorous project-based learning results in high levels of academic achievement, strong attendance, low dropout rates, and a high percentage of students going to college." — Ellen Moir, CEO, New Teacher Center

"When educators ask me for practical advice about how to enhance the social, emotional, and academic development of high school students, I will urge them to read, discuss, and implement powerful strategies from this book. Belonging and Becoming is a game-changer that can improve the educational experiences, learning, and development of millions of high school students." — Roger P. Weissberg, chief knowledge officer, CASEL

Ned's GR8 8: An Insider's Guide to the Teenage Brain
If you're a teenage speaker brought in to address a crowd of teachers on the subject of how you and your peers learn best . . . what are you going to say? "I-have no clue," Ned Cephalus nervously demurs as he disclaims his "exper-tosity" from behind the podium in this whiteboard animation from WKCD. "I'm just a very average teenage brain." Five years later, this 6-minute "NED talk" and its hand-drawn adolescent brain continues to win rave reviews, as Ned knocks out eight powerful conditions of learning, from feeling okay to planning next steps.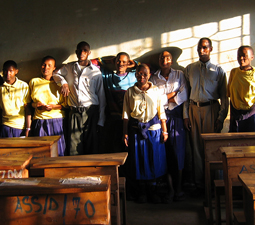 Ten years ago, the photo essay book WKCD's Barbara Cervone created with youth in the Tanzanian village of Kambi ya Simba made its debut, sparking an international movement of youth telling their own 'village's' stories. Profits from the sale of In Our Village: Kambi ya Simba Through the Eyes of Its Youth have sent more than two dozen village youth to advanced secondary schools. U.S teachers and students have visited the village and donated money for various projectss. Last May, Cervone traveled to Tanzania to catch up with the book's young authors. All are college graduates now. Still, their struggle to make their way in one of the world's poorest countries is at times heartbreaking. In this powerful story (with video interviews), Cervone shares their journey.

A Guide to Creating Teen-Adult Conversations in Your Community
After the publication of our book What We Can't Tell You: Teenagers Talk to the Adults in Their Lives, WKCD traveled the country co-hosting with MetLife Foundation and local organizations, public forums that promoted honest conversations between teenagers and adults. We were continuously struck by the absence of public occasions where adults and young people can find common ground. For those who would like to join us in creating public conversations between teens and adults on issues that matter to both, we created a free 40-page guide filled with sample panel discussions, interactive exercises, handouts, tips, resources, and readings.
In Our Global Village: Youth Documenting Their Communities

Four years after Hurricane Katrina, sixth-graders in a New Orleans classroom gather to list what makes their city unique. A world away, at a community school in the jungles of Nepal, youth of all ages share pictures of their families and homes, in the first two chapters of a book they are creating. What happens when young people are invited to tell their communityís stories? A lot, we've learned. In the past decade, WKCD has helped youth across the globe capture daily life in the places they live. The In Our Global Village series now includes over 60 such books, from youth on five continents. A virtual library, curated by WKCD, gives a worldwide audience to their images and words.

Teachers at Work: Six Exemplars of Everyday Practice

What does teaching look like when it truly centers on the studentís learning needs? What conditions foster and support such teaching? What kind of learning environments give all students, and especially underserved youth, access to an education that results in the skills, knowledge, and habits they will need for a successful and productive adult life in our rapidly changing world? For answers, WKCD's Barbara Cervone and Kathleen Cushman turned to six schools that, each in its own way, are exemplars of student-centered learning. The resulting paper, part of Jobs for the Future's Students at the Center initiative, also appears as a chapter in Anytime, Anywhere (Harvard Education Press, 2013). Download PDF

Student and Youth Voice: Asking, Listening, and Taking Action

When WKCD embraced student voice as part of our guiding principles in 2001, the idea that youth should be welcomed as crucial investors in improving their schools and communities had few advocates. The research on the power of student engagement was commensurately sparse. To us, however, it made gut sense to privilege student and youth voice and vision. So for thirteen years WKCD has supported youth as collaborators: in our books and other publications (e.g., our "Fires" series); in survey projects nationwide; in more than 75 grants to student research groups across the globe; and in the feature stories we produce for this website. Here is an inventory of some of what we've created with youth as partners.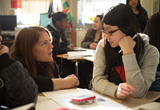 and the power of social-emotional learning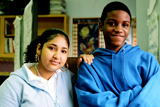 Helping your child succeed
English and Spanish
OTHER WKCD SITES

. . . research, resources & more
. . . advice about college
. . . student action research
. . . Kambi ya Simba, Tanzania
. . . by Beijing youth
SPECIAL COLLECTIONS

Students as Allies in School
Reform
POPULAR WKCD PUBLICATIONS (PDFs)

A Guide to Creating Teen-
Adult Public Forums
Cultural Conversations through Creative Writing
Documenting Immigration Stories
First Ask, Then Listen: How Your
Students Can Help You Teach
Them Better
Making Writing Essential to
Teen Lives
Profiles of Politically Active Youth
Queer Youth Advice for Educators
WKCD VIDEO
COLLAGES





Pushing Past Fear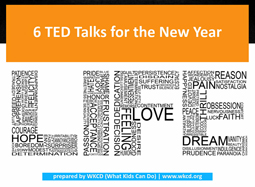 Six Ted Talks for the New Year
have a story for wkcd?
Want to bring public attention
to your work? WKCD invites
story ideas from youth and
educators worldwide.
Write to us >»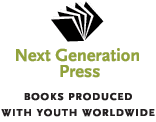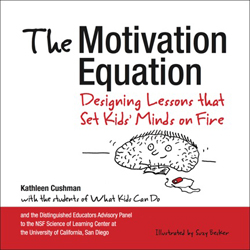 IN OUR GLOBAL VILLAGE



YOUTH COMMENTARY AND VISION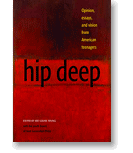 FIRST IN THE FAMILY



Preview and order from our current list of 16 titles >>
ALSO SEE OUR BEST SELLING "FIRES" SERIES