---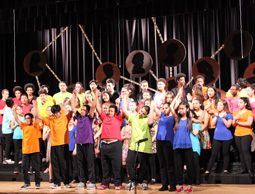 Life Lines: Finding Family through Musical Improv in Sunset Park
By the time the bus packed with teenagers from Brooklyn's Sunset Park reached their weekend retreat in Hudson Valley, everyone knew the rule: no one could use the "T" word. (T stood for "tired.") For the next three days, these 65 middle and high school students would be wearing themselves out, body and soul, in the best tradition of rehearsing musical theater. Then they would go back to perform in Sunset Park, the immigrant community they call home.
It would be easy to think that the retreat's main goal was to create a finely polished theater production. But on this unseasonably cool spring morning, Life Lines staff had their eyes on another prize: knitting this diverse group of adolescents into a community of care, where everyone mattered, everyone had a voice, and no one gave up. "Connections—that's what this show and Life Lines is all about," said the program's founder, Julia Stein Brockway. "It recognizes the deep human need to feel accepted and to belong."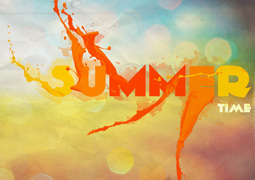 WKCD's 2016 Summer Bucket List, by and for Teens

We're often asked if we have a "summer bucket list" for teens that we could share. For the past three years, we've searched the web for lists posted by young people across the country. This year's looks like last year's: the ideas, more than 90, stand the test of time. We invite you to share the list with kids you know and to use it as a spring(summer) board to come up with your own ideas—perhaps ideas more suited to your own circumstances—and to try some of the ideas yourself.
Go an entire day (two days?) without technology. Do something that scares you. Interview someone you don't know and learn their life story; write it up and give it to them. Stand up for something you believe in. Eat five things you haven't eaten before. Visit a museum. Read five books.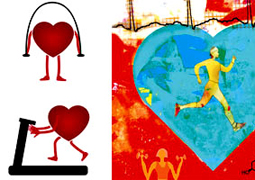 Short Workouts for Social-Emotional Learning | December 2015 - May 2016
In an era when test scores consume much of the oxygen around student success, we welcome the turn to social-emotional development as a key factor in a young person's education. In December 2015, WKCD introduced a new, monthly feature called Short Workouts for Social-Emotional Learning, geared towards middle and high school students. Each "collection" includes ten 10-15 minute workouts—quotations, questions, video clips, and photographs—suitable as a bell ringer, warm up, or advisory activity. There is no formula for using these workouts with students (just as there are no right or wrong answers). Mix them up and sprinkle them into your ongoing work, knowing that your students will embrace the chance to flex their social-emotional muscles.
May 2016 | April 2016 | March 2016 | February 2016 | January 2016 | December 2015
---

SHOUT OUTS | ARCHIVES
2 Valedictorians in Texas Declare Undocumented Status, and Outrage Ensues

When Mayte Lara Ibarra, the valedictorian of her high school's graduating class, revealed her plans to attend the University of Texas at Austin on a scholarship, she did what any graduate would do: She shared her excitement on social media. Ms. Lara also declared, proudly, that she is undocumented.

It's been 62 years since Brown v. Board of Education, but the percentage of racially segregated schools in the United States has been growing steadily over the past 15 years. New York has the most segregated schools in the country. New York's WNYC asked these Bronx 5th graders what segregation looks like today.

Shining a Spotlight on Black Girls

This infographic from the Schott Foundation focuses on the barriers facing Black girls in our public schools. Unfair discipline practices. Disinvestment from curriculum. Lack of supports for girls who face familial responsibilities. High rates of exposure to sexual harassment and violence. Lack of resources for counseling and addressing trauma.

From Activism to 'Zowie!': 10 Articles From the Times Archives on Life as a 20th-Century Teenager

Sex, drugs and rock 'n' roll—and feminism, fashion, war protests, first driver's licenses and the hottest slang of 1943. In this piece, members of our Learning Network's teenage Student Council chose 10 gems from the Times archives about the lives of young people in the 1940s, '50s, '60s and '70s.

Sisterhood on Wheels: Bushwick's Rugged Roller Derby Girls

Blossom Bettles is a petite 12 year old who lives on a tree-lined street in Brooklyn. Her father, who is British, is a photographer; her mother is a meditation and mindfulness teacher from New Zealand. Blossom's name seems to suit her perfectly, until she straps on skates, dons her gear and becomes Dark Pixie, a fierce competitor in a gritty junior roller derby league in Bushwick.
8th-Grader Nails Impersonations Of Trump, Clinton, Obama, Sanders

Maybe we're all just taking politics too seriously these days. Eighth-grader Jack Aiello used his 8-minute graduation speech to impersonate Donald Trump, Ted Cruz, President Obama, Hillary Clinton and Bernie Sanders. Aiello, speaking as Sanders, said his school had the best cinnamon rolls he'd ever tasted, but "I do have one improvement for them, though: We need to make them free."
---
RECENT/POPULAR FEATURES

The Teenage Brain: Just an Adult Brain with Fewer Miles?
While 95 percent of the human brain has developed by the age of six, scientists say the greatest spurts of growth after infancy occur around adolescence. What are these changes? How do teenage and adult brains differ? What causes the adolescent mood swings, impulsivity, insensitivity (or too much sensitivity) that drive adults wild? In this research brief, we share the latest findings from imaging studies of the teenage brain--along with a wonderful TED Talk by British neuroscientist Sarah Jayne Blakemore.

Student Voices from the Middle Grades: Five Ways Teachers Can Help Us Succeed
What do students in the middle grades most need from their teachers? In this guest article on MiddleWeb, WKCD draws upon more than twelve years of listening and gathering answers from middle schoolers nationwide. What we've heard surprises us. They say: (1) help us grow into confident learners; (2) give us space to figure out who we are; (3) understand the ways grades affect us; (4) involve us in conversations about what's fair; and (5) encourage us to spread our wings. Kaitlyn describes her favorite teacher: "She was real down-to-earth, really talkative, but she was also very . . . 'teach-ative.'"

Motivation and Mastery: What Spurs Students to Do Their Best?
What makes young people stretch to learn something hard, in school or out? Something they value—perhaps a family tradition passed down, a place among their peers, a curiosity satisfied, a feeling expressed, or a product they make themselves—always gives meaning and momentum to those first steps into learning. Yet that is not enough: They must also expect that they can succeed at the task, with reasonable effort and practice. Combined, those two factors of value and expectancy lead to both motivation and mastery, research from the learning sciences has long shown. A two-year long inquiry by WKCD student researchers reached the same conclusion.
Bronx Strong: Empowering Immigrant Youth Through Soccer
In 2009, when Andrew So assembled an afterschool soccer team at the South Bronx school where he taught, he figured his students needed a way to get off the streets and do a safe, prosocial activity with peers. It was an easy sell. As the children of immigrants or newcomers themselves, his students were as passionate about soccer as So, a Stanford graduate who knew firsthand soccer's power to fuel dreams and cross cultures. Today, South Bronx United (SBU) engages nearly 900 children and youth between the ages of 4 and 19. Its afterschool Academy, with 150 students, combines competitive travel soccer with academic enrichment, college prep, mentoring, leadership development, immigrant legal services, and other social and emotional supports.
Harlem Lacrosse: Lessons About Learning, On and Off the Field

Jessica, a sixth grader at Harlem's Sojourner Truth School, was in tears. Her English teacher had just rejected the essay she'd turned in when she didn't followed the assignment. Seeking consolation, Jessica turned to an unlikely source: her lacrosse coach, Alyssa Palomba. "Of course she got mad at you," said Palomba, as she huddled with Jessica in a room stacked with lacrosse gear on the school's third floor. "She told you to do A and you did B. That's like when I ask you to play attack and you play goalie instead." For five years, the school-based Harlem Lacrosse and Leadership (HLL) has supported struggling middle school students, on and off the field, and helped them win high school and college scholarships as student athletes.

Ten years ago, the photo essay book WKCD's Barbara Cervone created with youth in the Tanzanian village of Kambi ya Simba made its debut, sparking an international movement of youth telling their own "village's" stories. Profits from the sale of In Our Village: Kambi ya Simba Through the Eyes of Its Youth have sent more than two dozen village youth to advanced secondary schools. U.S teachers and students have visited the village and donated money for various projectss. Last May, Cervone traveled to Tanzania to catch up with the book's young authors. All are college graduates now. Still, their struggle to make their way in one of the world's poorest countries is at times heartbreaking. In this powerful story (with video interviews), Cervone shares their journey.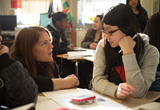 and the power of social-emotional learning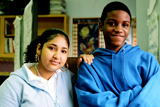 Helping your child succeed
English and Spanish
OTHER WKCD SITES

. . . research, resources & more
. . . advice about college
. . . student action research
. . . Kambi ya Simba, Tanzania
. . . by Beijing youth
SPECIAL COLLECTIONS

Students as Allies in School
Reform
POPULAR WKCD PUBLICATIONS (PDFs)

A Guide to Creating Teen-
Adult Public Forums
Cultural Conversations through Creative Writing
Documenting Immigration Stories
First Ask, Then Listen: How Your
Students Can Help You Teach
Them Better
Making Writing Essential to
Teen Lives
Profiles of Politically Active Youth
Queer Youth Advice for Educators
WKCD VIDEO
COLLAGES





Pushing Past Fear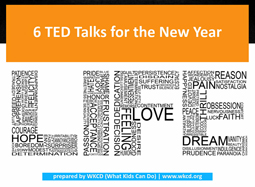 Six Ted Talks for the New Year
have a story for wkcd?
Want to bring public attention
to your work? WKCD invites
story ideas from youth and
educators worldwide.
Write to us >»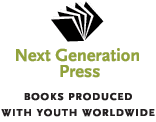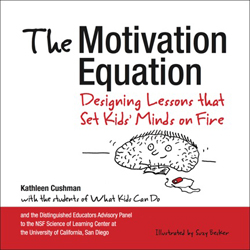 IN OUR GLOBAL VILLAGE



YOUTH COMMENTARY AND VISION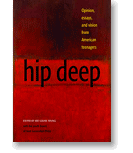 FIRST IN THE FAMILY



Preview and order from our current list of 16 titles >>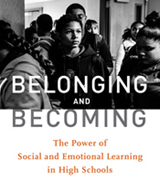 ALSO SEE OUR BEST SELLING "FIRES" SERIES