---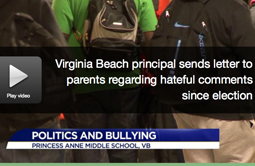 School Bullying After the Election
News headlines about a spike in school bullying since Trump's victory have exploded in the week since Election Day. Alarmed, some principals are sending lengthy e-mails home to parents about what they are hearing and seeing. Dr. Alex Bergen, principal of a middle school in Virginia Beach, began his letter, "I am writing to ask for your help."
To provide a sense of the tensions seemingly provoked by Trump's ascendance, we have compiled a list of some of the news headlines and articles on school bullying that have appeared in the week after the 2016 Election.
On a related front, the national nonprofit Teaching Tolerance is seeking input from schools and teachers across the country on a post-election climate survey. "Your input is vital," Teaching Tolerance writes. "Beyond unreliable social media anecdotes, we have little solid information about how the election results are affecting classrooms. Finishing this survey (it takes less than 10 minutes!) is a concrete way you can take action and help students across the country."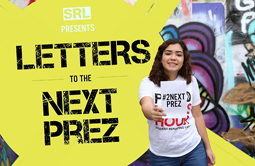 Video Letters to the Next President from the Student Reporting Labs
While reports of an increase in school bullying—post election 2016—are surely upsetting, the voices of students in the run up to the election show deep concens about what they see happening on the news and in their own neighborhoods.
Over 60 short "video letters" submitted by PBS NewsHour's Student Reporting Labs nationwide make the case. Addressing homelessness, poverty, gun violence, the challenges facing immigrants, access to higher education, climate change, foster care, wage disparity between the sexes, student debt, police use-of-force, rape culture, and more—these young journalists leave few stones unturned.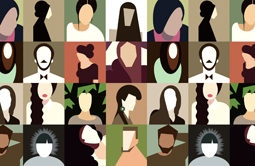 Two Learning Experiences for High School Students that Address Stereotyping and Community
For the past six months, WKCD's Barbara Cervone and international service learning consultant Cathryn B. Kaye have been developing an advisory curriculum centered on social-emotional learning for international schools around the globe. The curriculum, still in its pilot phase, is grouped around four themes—identity, learning to learn, relationships, and wellbeing—and includes 72 40-minute interactive learning experiences. The learning experiences can stand alone or, better yet, create their own momentum. The topics are as deep as they are wide, from belonging to the science of the teenage brain.
Here we offer two of these learning experiences, appropriate to the times. The first builds off Nigerian author Chimamanda Ngozi Adichie's TED Talk, "The Danger of a Single Story." The second begins with students drawing, in silence, their own visions of community.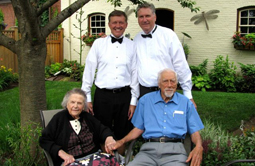 Generous Orthodoxy
A pastor officiates at the wedding of his son—under ordinary circumstances, an affirmation of family and community. But what if the son is gay? And what if the pastor belongs to the most traditional of religious communities? "Generous Orthodoxy" is the story of Chester Wenger, a 98-year-old Mennonite minister who chose to confront his own church over a question of deepest principle. It asks: What do you do when the institution that has defined your life comes between you and your family? Wenger offers all of us a master class in the art of dissent.
Wenger's story is one of ten episodes from Welcome to Revisionist History, a podcast from Malcolm Gladwell. Although presented largely with adults in mind, Wenger's message will surely ring true for adolescent listeners.
---

SHOUT OUTS
An Estimated 24 Million Young People Voted in 2016 Election
The Center for Information and Research on Civic Learning and Engagement (CIRCLE) has analyzed the 2016 National Exit Poll data in relation to young voters. The data suggests that the actual split in the election was 55% for Clinton to 37% for Trump among youth aged 18-29. They also suggest that there were more youth in 2016 who supported a third-party candidate, did not vote for a presidential candidate, or specifically chose not to answer this poll question. This year, 43% of young Whites voted for Clinton, while Black youth supported her by almost double that margin (83%) and Latino youth voters by 70%.
Trump Win Sparks Student Walkouts and Protests Across the U.S.
Donald Trump's victory in the presidential election has sparked protests across the nation, including students marching through city streets, rallying at college campuses, and staging school walkouts. "I expected better of my electorate," said one young demonstrator. "I thought this country was different." From Los Angeles to the Puget Sound, from Maryland to Portland, student groups have been disavowing the President-elect.

Millenials on Trump's Appeal: 'Emotion,' 'Honesty'
A March 2016 Politico article—now telling—argued that while Young Republicans weren't Trump's base, he had an appeal to this group that was underestimated. "I'm not personally a Trump supporter but I think Trump's galvanizing rhetoric, his brute honesty might be the selling point," said one conservative millenial. "He doesn't play the game that the rest of the establishment candidates do. He doesn't play the civility game."
A Post Election Note to You
WNYC Radio recently posted this invitation as part of its popular podcast Note to Self: "We're all processing this election together. We want to create a nurturing, constructive space to do that. . . . Sure, we're asking ourselves: 'What does this election mean for the country?' But we're also asking: 'What does this election mean about me? About how I live my life? About how I connect to human beings and information?'" As a way to start processing all of this, Note to Self curated a list from its archives.
---
RECENT/POPULAR FEATURES

Integrating Social-Emotional Learning Into High School
In this 2014 Education Week commentary, WKCD's Barbara Cervone and Kathleen Cushman, ask: What would it take to weave social and emotional learning into the daily fabric of our nation's high schools? To start, Cervone and Cushman argue, we need new language that ends the "versus" between cognitive and noncognitive factors in our discussions of learning and mastery. Academic, social, and emotional learning are deeply mutual. In turn, we need learning standards that treat SEL as integral to the curriculum. Finally (though perhaps first of all), teacher-preparation programs must equip new teachers with the core competencies necessary to foster social and emotional learning.

You're Constantly Revising Yourself: Dispositions of a Student-Centered Teacher
What qualities should a school seek when hiring teachers explicitly to teach in a student-centered setting? What dispositions help teachers thrive in the demanding environment of a student-centered school? WKCD asked these questions to teachers and students in six high schools known as exemplars in student-centered learning. We had spent months documenting everyday teacher practice in these schools—as part of a larger inquiry for the Students at the Center project, led by the Boston-based Jobs for the Future.
Immigrant Students Use Cartoons to Share Their Journeys
At Oakland International High School, new students arrive each week. For many, OIHS is their first school in the United States. Its 300 students come from 31 countries and speak 29 languages. Each of these students has a story. Not all of them have a way of communicating it. OIHS art teacher Thi Bui urges her 9th and 10th grade students to tell their immigration story in the form of a comic. Each of the 23 comics—stories of loss and hope—answers the question, "Who am I?" and, collectively, the question "Who are we?" Together, they provide an extraordinary insight into the motives, challenges, and dreams of our newest immigrants as they become part of the complex fabric of America.

Short Workouts for Social-Emotional Learning
In an era when test scores consume much of the oxygen around student success, we welcome the turn to social-emotional development as a key factor in a young person's education. In December 2015, WKCD introduced a new, monthly feature called Short Workouts for Social-Emotional Learning, geared towards middle and high school students. Each "collection" includes ten 10-15 minute workouts—quotations, questions, video clips, and photographs—suitable as a bell ringer, warm up, or advisory activity. There is no formula for using these workouts with students (just as there are no right or wrong answers). Mix them up and sprinkle them into your ongoing work, knowing that your students will embrace the chance to flex their social-emotional muscles. May 2016 | April 2016 | March 2016 | February 2016 | January 2016 | December 2015

The Ground Beneath Our Feet
Eleven years ago, the photo essay book WKCD's Barbara Cervone created with youth in Tanzania made its debut, sparking an international movement of youth telling their own "village's" stories. Profits from the sale of In Our Village: Kambi ya Simba Through the Eyes of Its Youth have sent more than two dozen village youth to advanced secondary schools. U.S teachers and students have visited the village and donated money for various projectss. In 2014, Cervone traveled to Tanzania to catch up with the book's young authors. All are college graduates now, some with families of their own. Still, their struggle to make their way in one of the world's poorest countries is at times heartbreaking. In this powerful story (with video interviews), Cervone shares their journey.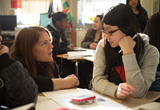 and the power of social-emotional learning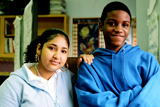 Helping your child succeed
English and Spanish
OTHER WKCD SITES

. . . research, resources & more
. . . advice about college
. . . student action research
. . . Kambi ya Simba, Tanzania
SPECIAL COLLECTIONS

Students as Allies in School
Reform
POPULAR WKCD PUBLICATIONS

A Guide to Creating Teen-
Adult Public Forums
Cultural Conversations through Creative Writing
Documenting Immigration Stories
First Ask, Then Listen: How Your
Students Can Help You Teach
Them Better
Making Writing Essential to
Teen Lives
Profiles of Politically Active Youth
Queer Youth Advice for Educators
WKCD VIDEO
COLLAGES





Pushing Past Fear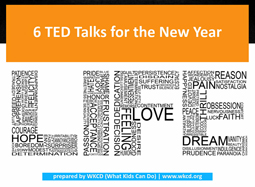 Six Ted Talks for the New Year
have a story for wkcd?
Want to bring public attention
to your work? WKCD invites
story ideas from youth and
educators worldwide.
Write to us >»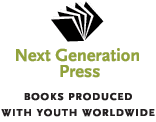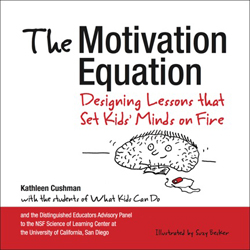 IN OUR GLOBAL VILLAGE



YOUTH COMMENTARY AND VISION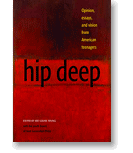 FIRST IN THE FAMILY



Preview and order from our current list of 16 titles >>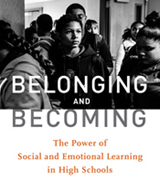 ALSO SEE OUR BEST SELLING "FIRES" SERIES