---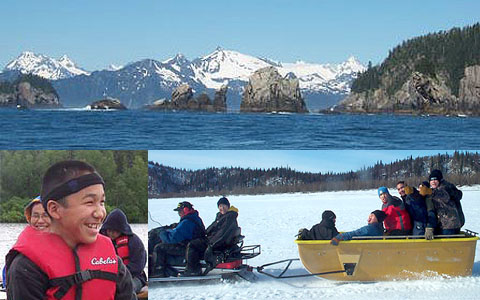 Yupik Eskimo Youth Embrace Subsistence Living and Renew Community
RUSSIAN MISSION, AK—The riverbank echoes with the sounds of a giant bell: people are hitting the bottoms of their aluminum boats with wooden clubs, to scare the salmon into drifting gill nets. Eighteen year-old Art Vaska and his younger brother Carl have caught six king salmon so far, gracefully detangling wet nets and extracting the huge silver fish.
The Vaska brothers are skilled hunters and fishermen in the Yupik Eskimo tradition—a native subsistence culture dating back thousands of years. And at Russian Mission School, the one public school in their remote Alaskan village, they are beginning to link traditional ways with classroom learning. Alongside qualities taught by their father, like patience and observation, they know how to calculate the geometric design needed to build a salmon drying rack; how microscopic rings on a single fish scale evidence the years of that fish's life.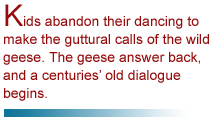 When asked about participating in what is called Subsistence Education, Carl says simply, "It's a good way—it makes me have more concentration to be here." Fifteen year-old Rachel Evan grins mischievously and declares, "Tell all the other kids in America that they should come up to Russian Mission and try it out! It's pretty cool."
That would be quite a trip, as the village of Russian Mission, Alaska, population 307, is accessible only by boat or charter airplane. Located 300 miles from Anchorage in the Yukon Delta National Wildlife Refuge, it sees few visitors. A lime-green carpet of moss and lichen in summer, the landscape turns to ice and snow in the long winter. The clear blue of the Yukon River runs through the two-road village, then empties into the Bering Sea 100 miles west.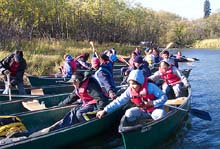 Three golden onion domes of the Russian Orthodox Church, built by missionaries who arrived in the 1830's across the Bering Strait, dominate the landscape and give the village its name. Over time, Western standards of education, dress, medicine, and work have eclipsed native ways. Today, with few employment possibilities in Russian Mission, most survive by a mix of seasonal work, public assistance and subsistence hunting. Drug and alcohol problems are a concern, as is youth suicide.
Teenagers here, like elsewhere, dance to rap music pumping from porch stereos on the town's one rugged road—and when a flock of geese goes over, casting long shadows on the river, those same kids start making the guttural calls of geese. The geese call back, and a dialogue begins. Moments like these illustrate that the Yupik people have their own education system, and a deep body of knowledge, developed over thousands of years of working together to subsist from the land and water.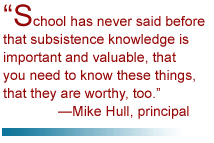 It is this kind of indigenous knowledge that school principal Mike Hull hopes to use to help kids build academic skills. An 18-year veteran of the school district, Hull explains, "School has never said before that the subsistence knowledge is important and valuable, that you need to know these things, they are worthy too. We are saying it now. This is the beginning of a return to the old way."
So in 2000, with the help of students, parents, and tribal community members, Hull developed the Russian Mission Subsistence Outdoor Education Program as a meeting ground for indigenous and modern ways of learning. Now, the student's energy and ideas are leading the village toward a different future.
Learning from the Land
"This is a situation in which this generation has been pulled away from the land," Hull, 58, continues. "A lot of communities are trying to return to the elders, and hoping the elders will lead the way. But here we don't have elders. The ancestors built their knowledge by association with the land, so at the school we have to give the kids their initial experience with the land."
From third to eighth grade, kids are immersed in learning about where, and how, they live. Science and math lessons might involve investigations into the effects of recent weather on native species, how to repair an outboard motor, or the temperature at which lard mixed with sugar and berries congeals into the local ice-cream, aqutak.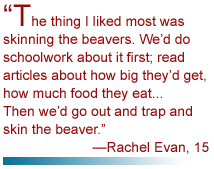 Bupsie Kazevnikoff is a soft-spoken 15 year-old who has been through six cycles of the Subsistence Education Program. She likes to ride four-wheelers, sing along with The Little Mermaid, help her grandparents around the house, and watch cartoons. When asked what she's learned in Subsistence Education, she has a full list:
"Cutting fish, building cabins, cutting wood, checking nets, shooting guns, ice fishing, eel fishing, trapping beaver with a snare, making a snow shelter, skinning moose, skiing, canoeing, gathering berries, starting fire....I think we learned everything. We also dug snow caves. We dig a door out of a big pile of snow, dig till its deep enough to sleep in. It's cool, but it's cold. Maybe three kids get in there to sleep, and we build a fire on the outside of the snow cave, to keep us warm." Students read, write, calculate and hypothesize along the way.
What's the limit? Mike Hull says, "We don't go out if it's less than zero degrees."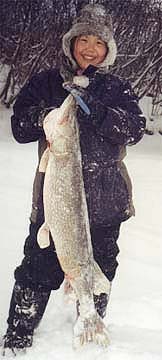 Students prepare for their camping trips by reading and research, and they keep a journal throughout. A full cycle of learning takes place, from abstract conceptualization to tactile experience, and the creation of artifacts, food, and story. Rachel Evan, 15, relaxes in the school computer lab as she recounts, "The thing I liked most was skinning the beavers. We'd do schoolwork about it first; read about it in articles, how big they'd get, how much food they eat, how much kids they have, how they build their houses in their habitat. We'd answer questions about them, then we'd go out and trap and skin the beaver. We'd put rock salt on the skin and rub it all over the place, and stretch it out in the sun. Afterwards, elders came in and taught us how to make boots and hats and gloves out of the beaver skin."
The academic benefits of the approach are clear: by the second year of the program, fourteen village kids who had dropped out of school decided to re-enroll. Some had left school as early as the third grade, and decided to give it another try. Standardized test scores also jumped dramatically, from among the lowest in the district, to the top one-third. The local police office reports a drop in crime in the village since the program began. And perhaps most importantly, youth here are becoming spokespeople for the Yupik culture, and realizing that their way of life is valued by people around the world.
"I think the kids have grown a lot these last few years," says school secretary Millie Askoar, 49. Askoar had a birds-eye view on student life: mother and grandmother, she is also known in the village as the matushka, or wife of the Russian Orthodox priest. Askoar takes the wellbeing of the community personally. "We are working to bring back communication between families, with the youth camps. It has made the children much happier. It helps the whole community. It helps with getting to know ourselves, most of all."
Improving Relationships, In School and Out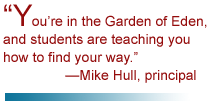 Teachers who venture to remote Alaska from the Lower 48 are often in for a culture shock. The teacher turnover rate hovers around fifty percent. Yet those who come to Russian Mission have a distinct advantage: they are shown how to survive, read the weather, and navigate outdoors by their students. Mike Hull describes the impact on a new teacher: "It's a totally different impact when you do this with young teachers too. You're in the village a week, fresh out of college, then boom! You're out on a boat in the Bering Sea seal hunting, or in the bush walking on carpets of berries. You're in the Garden of Eden. The students are teaching you how to find your way."
Camping and hunting in the unpredictable conditions of arctic weather builds a unique trust. Rachel Evan explains, "We had a better attitude, and we got to know the teachers better, when we were out camping than in the classroom. Instead of the teachers teaching us, we were teaching the teachers."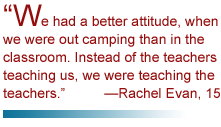 The resulting mutual respect can have wide reverberations back in the classroom, where a majority of students read and write below their grade level. Rachel Evan continues, "By working together, I think we learned to trust each other better. So if the teacher has to tell me something later, it won't hurt my feelings."
The students' sense of responsibility to the village as a whole grows deeper as intergenerational learning is renewed. When the kids go out hunting, they bring meat to the senior citizens first. Anutka Nickoli, 66, a retired health aide, says, "I'm glad they go out, especially when they bring me moose meat. I live alone, so I was really happy that they brought me moose to eat. Me, I don't hunt, but I can't wait 'til the winter freezes over so I can go ice fishing on the river."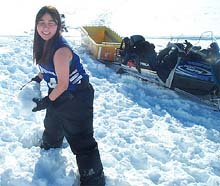 A single moose can supply six to seven hundred pounds of meat, so on the school menu students are likely to find protein that they themselves have provided—as moose stew, moose soup, and moose fried rice. And in autumn, older teens are responsible for catching fish to feed the school. When the high schoolers bring in the silver salmon, the whole town turns out to cut and prepare the fish. Hull recalls, "We set up tables in the gym, and the floor is covered in blood! When the school menu calls for fish sticks, it's salmon from the river."
An ineluctable sense of school ownership emerges for the students who provide for themselves and their community. Bam Larsen, a tall 15 year-old with glasses and a crew cut says, "The food we catch, it's good. We have the best cooks in the district."
And reflecting a common sentiment among teenagers here, seventeen year-old Chris Evan says, "It's okay, I guess, being a senior. But I don't want to go. I'm really gonna miss school when it's over."
Building Community
Food is expensive in rural Alaska, and many families who receive food stamps find them gone by the middle of the month. Theresa Vaska comments, "Whenever people leave, they mail their clothes back and fill their suitcases and pockets with food to come home with."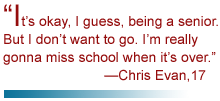 This year, students designed a project to research the village's eating habits, with the goal of determining what portion of foods people eat are caught in the wild. With a research grant from the Rhode Island-based non-profit What Kids Can Do and the Bill & Melinda Gates Foundation, kids surveyed all 80 households in the village (some sheltering three or more generations).Their results showed an increase in subsistence eating, but the real reward was the impromptu community dialogue started on the subjects of food, nutrition, and health.
Millie Askoar muses, "I never used to think we were lucky or rich, until Mike started the program. To realize we were rich, with our food from the water, and growing all around. Before I was like, "What do you mean, we're rich?!" We used to think we had to have pork chops and prime ribs and turkey from the store, things we've seen on the TV. Now we enjoy more what we can get here, salmon, moose, berries, all the food that we have to prepare for the winter. We are teaching it to the grandkids again. If we teach the kids to appreciate it now, they can live a better life."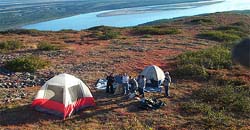 The grant also sponsored the students' airplane trips to numerous nearby native villages to present on their learning at schools and tribal councils. "When we went to the different villages," Bam says, "most of the kids wished they were doing this. Some of them wanted to leave where they lived and transfer over here." When the school superintendent of the Kuspuk School District saw their presentation, he decided to implement an outdoor program modeled after Russian Mission in his own region along the Lower Kuskokwim.
The Alaskan trips offered many firsts for Russian Mission's teens—for some, it was the first time in a car, a motel, or a mall. Not all aspects of the meeting of cultures were glowing. As rural teenagers met urban ones, Bupsie Kazevnikoff recalls, "Sometimes they ask funny questions, like if we live in igloos, or like to dance with a stripper pole, or if we have marijuana in Russian Mission. But I don't get mad at them. I just laugh at them."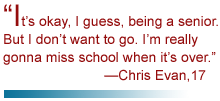 Bupsie's equanimity reflects the maturity of the Yupik students—qualities that quickly caught the attention of educators. In 2003, their Alaska trips were the launching pad for a much bigger journey: nine junior high school students traveled to Tokyo, Japan, to the Ecoplus International Symposium on the Environment. There students danced, drummed, spoke, and made presentations to place their culture into global and historical perspective.
Rachel Evan stood in front of an audience of 300 and explained, "I have about double the amount of mercury in my body as you have in yours," opening a dialogue about the industrial pollutants that collect in the Arctic from all over the world, threatening the lives of Eskimos. When asked later if she had been nervous, she shakes her head, no. "I think they were interested," she says, "because they wanted to know about our life."
With roughly a third of the population of Russian Mission in school right now, life in the village today is a story of generational change. The students who are graduating now will be able to practice subsistence as a part of daily life—and teach it to their children. Chris Evan's ambition is to study math in college, then return to teach at Russian Mission High School. His sister Rachel adds, "I want to keep the Yupik language alive and remember all the things that I'm learning."

If Mike Hull's vision comes to fruition, that is exactly what will happen. "What's happening now is that the families are taking over the camps. Then the schoolteachers are truly guests there." Education is coming full circle back into the community's hands, and these teens are up for the challenge—at once ambitious and realistic.
"It'll be important for my kids to know how to get food to munch on, and how to live outdoors," says Bam Larsen, "so if they don't graduate or don't have a job, they can live off the land. To me, being Eskimo means knowing how to live off the land."

Click here for a PowerPoint slideshow (2.9 MB) that includes additional photos, student journal entries, sample curriculum, program impacts, and student surveys.
Click here to download a PowerPoint Viewer
Click here to see model subsistence-based curriculum.
This story was written by Abe Louise Young, a poet and freelance writer who lives in Austin, Texas. In June 2004 she traveled to Russian Mission, Alaska to meet with students and teachers who had received a Student Action Research grant for this project—part of a three-year joint initiative of What Kids Can Do and the Bill & Melinda Gates Foundation.