---

Young men of color make theatre to prevent violence
by Abe Louise Young

BOSTON—Within a baseball's throw of Fenway Park, an ensemble of young men of color stare down their demons. They discuss sex, racism, fathers, anger, guns, and drug addiction. One gets teased for his virginity. In street slang, he hasn't "smashed" yet. Does that mean he's gay? We're in a zone where nothing is off limits. Jokes and insults flow naturally; and strangely, tears do too. The typical rules of masculinity are suspended here. The more powerful the emotions that surface, the better.
"Our job is breaking down stereotypes, the premonitions people have of young black men," says Vonsky Celestin, 18.
This is Soul Element, a theatre project created by thirteen high school students in an effort to address the violence, racism, prejudice and fatalism that besiege their communities and their peers. They do so by laying themselves bare onstage. The trailblazing project has been garnering attention on both coasts, and is currently touring middle school auditoriums in Boston.
Importantly, the show doesn't stop when the curtain falls. After each public performance, the young performers in Soul Element lead an audience discussion. As leaders, truth-tellers, and educators, the ensemble is doing exactly what's needed to empower other young people to grapple with the toughest issues around.
Honesty is the Prize
Theatre teacher Juanita Rodrigues is adamant that she does not simply work with teenagers—she works with artists. That distinction is key at Boston Arts Academy, a flagship pilot public school that combines academics with professional arts training.
As artists, the students in Soul Element are responsible for inventing, writing, and embodying the creative material that—over a year's time—forms the script.
Their method is fairly simple. Led by teachers, theatre artists, and playwrights, these youth ask themselves questions. How do we relate to girls? How do we deal with the pressure to join gangs, carry a gun, drop out? Who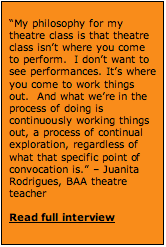 is the male figure in my life who's had the most positive impact? Who is the most negative man in my world? What am I most ashamed of, and proud of?
They meet daily to discuss these questions in a group. They voice what they're afraid to admit. They do improvisations and write. They support and wrestle with one another. And then, they put that process under lights. "I tell them, if it is not true to them, the audience will not relate. Every little piece of this has to be true to them, totally honest," says Rodrigues. Honesty is the prize that the performers recognize.
Michael Cognata, 18, echoes her conviction. "Honestly, as a whole, the theatre made us be just ourselves. I know in my case, I don't have much left to hide. I am not afraid to have people laugh at me, I'm not afraid of laughing at myself."
Vonsky Celestin agrees: "This gave me a voice, which is the most important thing. My beliefs can be what they are, but if I have no voice, then they don't get put to work. You could see drastic immediate changes in my life from this process."
We Are Successful
After a year of work, the ensemble took their show public, and found that their complex, real conversations met eager ears. There are very few places—especially in overburdened public schools—where kids can discuss facts of life like parental alcoholism, abuse, sexuality, suicide and self-destructive behaviors. In Soul Element, these are a central text.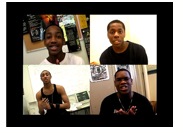 "Since we like to do theatre, every time we go on stage, we're trying to get the audience to feel something. As long as the audience understood the type of journey that we took them on—and left thinking like, 'Wow, am I like that?' Or, 'Am I headed down that road?' Or, 'Do I see this? Is this real to me?'—I feel like we were successful," Michael Cognata says.
There are many reasons for him to feel successful. Not a single performer is graduating from high school without college plans. Banks was accepted to Dean College, with a theatre scholarship. Cognata will be attending the Wentworth Institute of Technology, and Celestin will be going to Suffolk University to study political science, with a minor in theatre.
Despite these accomplishments, when asked what they would change first about society, the group was unanimous: They want to be seen as good people. Strangers judge them as dangerous upon first sight, and cross the street more often than not. "If I could do one thing, I want people to know that all black youths my age aren't into bad and negative things, that there's a lot out there that are trying to be positive and do the right things," says Heladio Banks. "There are kids out there that are trying to do what's right."
Soul Element makes it clear that the solutions to destructive stereotypes plaguing young men of color are not in drugs, alcohol, or escapism. The solutions are in hope, trust, and self-expression. It also doesn't hurt to have a strong and creative brotherhood. As Celestin says, "It's just about—know who you are. And if the world holds an image of you that does not fit, change it."
Click below to:
Watch a documentary video about the Soul Element program [ broadband | dialup]
Read an interview with Boston Arts Academy theatre teacher Juanita Rodrigues