---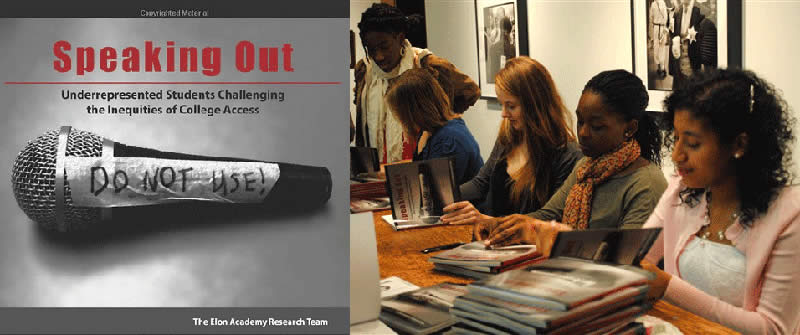 Photos: Left, book cover; Right, student researchers at a book signing

I have no one to help me learn about college and sometimes I feel like I'm set up to fail. I can't pay for it, I don't know how to get there. I need help. I have so many questions and no one to ask. How do you apply? How am I to pay for it? How do you get scholarships? How do you find scholaships? I just don't know. - Julie, student, Western Alamance High School, Elon, North Carolina
ELON, NC—Who better to understand the challenges faced by low-income, first generation students dreaming of a college education than the students themselves? That's what a team of fifteen "scholar researchers" at Elon Academy in North Carolina thought. Rising juniors and seniors, black, brown, and white, aching for the higher education denied their parents, they believed their experiences both exemplified and countered the disturbing statistics on underrepresented students aspiring to college.
This winter their 98-page book, Speaking Out: Underrepresented Students Challenge the Inequities of College Access, made it onto Amazon.com. "This personal and scholarly call to awareness and action," the press releas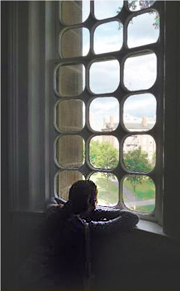 e noted, "should resonate with all communities who hope to see inequities in higher education addressed thoughtfully and changed for the better."
Speaking Out's teenage authors drew their voice—and sense of power—from the intensive academic enrichment program they attend on the campus of Elon University, one of the South's best private liberal arts universities. Since 2007, Elon Academy has inspired ambitious low-income high school students from the local high school to pursue post-secondary education, build leadership skills, and assume social responsibility. (In 2006 a Superior Court judge threatened to close the high school for chronic underperformance.)
For a year, the book's fifteen scholar researchers worked on weekends, holidays, and after school to investigate the barriers to higher education in their community. Full partners in the research process, they read professional literature on college access, trained in qualitative research methodology, conducted interviews and focus groups, and collected survey data to document the challenges faced by low-income, first-generation college students. They also engaged in "Photo Voice," an anthropological method that uses photos to "speak" about participant lives
In addition to publishing their book, the team has shared its research in professional venues. Five student researchers, along with Elon Academy staff, presented preliminary analysis of the work in April 2011 at a poster session at the Society for Applied Anthropology in Seattle, Wash. Two student researchers presented their work at the Association for the Study of Higher Education conference in Charlotte, N.C., in November 2011.
Copies of Speaking Out are available at www.amazon.com, where you can also preview pages from the book.
For more information, contact the Elon Academy office at elonacademy@elon.edu, 336-278-6109.