---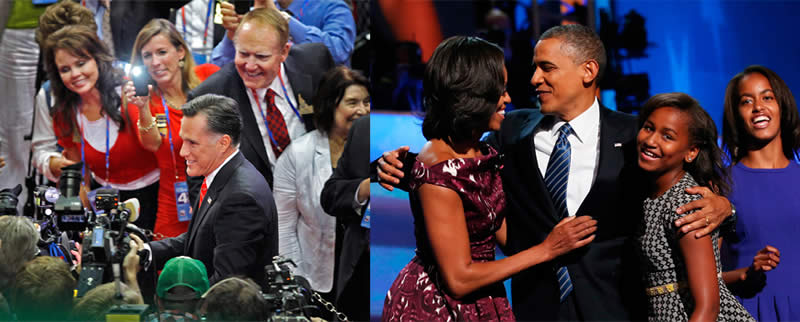 Multimedia and reporters' notebooks from the RNC and DNC
September 24, 2012
"There was a time when the national political conventions were news events of such complexity that they required the presence of thousands of journalists ...But not this year ... This convention is more of an infomercial than a news event."--Nightline host Ted Koppel telling viewers why he was leaving the 1996 RNC midway and not staying until the end.
INDIANAPOLIS, IN—In these last frantic weeks leading up to the November 6 presidential election, the Republican and Democratic National Conventions already seem old news—to the extent they were news. Ted Koppel (see above) was mostly telling it like it is: the conventions have become, in large part, highly scripted infomercials.
Nonetheless, youth journalists at Y-Press gathered floor credentials, notebooks, tape recorders, and sleeping bags and joined the reporter pack at both conventions, as they have for the past 12 years.
What the Y-Press journalists turned up and write about here stays true to their charge: providing a youth beat on this year's (raucous) presidential election. The live feeds and blogs from Tampa and Charlotte have disappeared, but the energy and undercurrents Y-Pressers document here continue to flow.
2012 REPUBLICAN NATIONAL CONVENTION, August 27-30, Tampa, FL
Reporters' notebooks: Town Hall Conversations with the Next Generation, Ann Romney, Mitt Romney, Tea Party Unity Rally, Ron Paul Rally (3 Takes), Newt Gingrich, Q & A with Herman Cain, Seventh Graders Talk about How Politics Affects their Lives.
Multimedia: Public Radio Internationali interview with AJ Feeney-Ruiz, a young Puerto-Rican American and Republican candidate for the Indiana state legislature; audio slideshow of young protestors outside the RNC.
2012 DEMOCRATIC NATIONAL CONVENTION, September 4-6, Charlotte, NC
Reporters' notebooks: Opening Night, United in Diversstiy, Youth Want More, Ms. Obama, President Obama, Hispanic Caucus, LGBT Caucus, Abortion Protesters, It's On Us.
Multimedia: Public Radio Internatinal interview—Social Media in the 2012 Election; audio slideshow of vendors at the DNC.
To get a youth perspective on the 2012 Presidential Elections, WKCD has teamed up with the youth-led news bureau, Y-Press, based in Indianapolis. Originally part of the Children's Express, Y-Press has nurtured young journalists for more than 20 years. Their stories and articles—on local, national, and global topics—appear every other week in the Indianapolis Star. The Y-Press web site is updated regularly and encourages external submissions and comments about youth-written stories and reviews.
Here, Y-Press reporters will be posting: stories about the campaign, the candidates, and youth perspectives on the political process profiles and interviews with young political activists results from surveys they've created to gather information from youth nationwide about the candidates and the issues most important to young people reports from the floor at both of this summer's national conventions. Check back often to keep up with this special "youth beat" on Election 2012.