---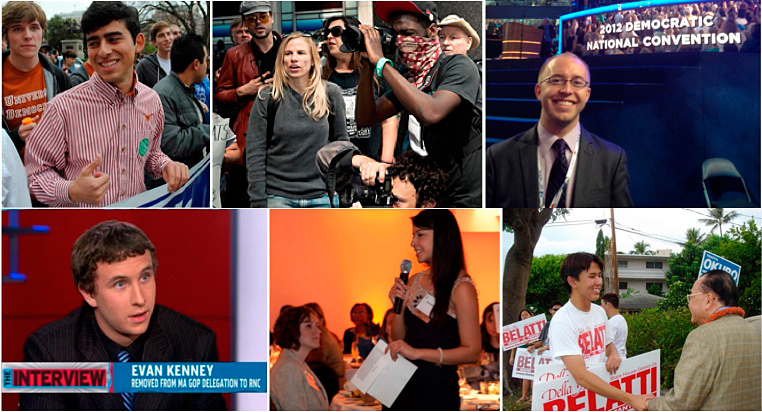 NOTE: FOUR YEARS AGO, predictions of an unprecedented youth vote grabbed headlines—and, indeed, turnout in the 2008 election was the second largest in American history. Today's headlines sound a different beat. "Kingmakers No More: Is Gen Y Too Jaded To Vote?" a recent article in Forbes Magazine begins. ABC News asks: "The Young and the Restless: Can Obama Recharge the Youth Vote?"
High youth unemployment, skyrocketing college debt, the anguish of undocumented immigrant youth, a crumbling public education system, the toll of ongoing wars, the excesses of the "one percent". . . . How can today's 18 to 29-year-olds not feel disillusioned?
As part of our Youth on the Trail '12 series, WKCD invited young journalists at Indianapolis' youth-led news bureau, Y-Press, to scour the country for politically active youth. For five months, Y-Press journalists have located and interviewed an incredibly diverse set of politically active youth, twenty and counting. Young Democrats and Republicans. Occupy protesters and Tea Party ralliers. Youth delegates to both National Conventions. Youth running for local office. Youth creating their own political clubs and organizations. Youth who insist on "No Labels."
The young activists profiled below—and on subsequent pages—defy stereotypes. And they offer a rejoinder to the headlines that call Gen Y politically jaded. Whatever your political beliefs, these youth will turn your head.
See additional profiles » » DOWNLOAD PDF OF ALL 20 PROFILES » »
Both sides of the aisle: politically active youth share their stories
August 5, 2012
Young voters are trending Democratic, the data tell us. In 2008, nearly half of 18-29 year olds (47 percent) identified as Democrats, up from 40 percent in 2006. Just 28 percent identified as Republicans. Of the 2.2 million new young voters in the 2008 cycle, two million voted for a Democrat for president. More young Democrats cast a ballot than young Republicans in nearly every state in the 2008 primary season—even in staunchly "red" states. Among young voters, Barack Obama beat John McCain by 27 points and ran strongly with every segment of the youth vote. In 2010, young voters ages 18-29 supported Democratic House Candidates by 57 precent, nine points higher than the voting-age population as a whole.
It may be surprising to learn, then, that the Young Republicans (YRs) is the oldest political youth organization in the United States. Important to the growth of the Republican Party, the YRs have reached out for more than 80 years to registered Republicans, 18 to 40 years of age, and provided them with political knowledge and understanding of the issues of the day. It was not until 1931 that the YRs were organized nationally. West Point graduate George H. Olmsted began to attract the attention of the leaders of the national Republican Party, and he was invited to meet with President Herbert Hoover at the White House. President Hoover, so impressed with his visit with Olmsted, asked the young man to head the Young Republican division of the Republican Party, which Olmsted did. In 1935, the Young Republican division officially became the Young Republican National Federation (YRNF), and the YRNF elected Olmsted as the organization's first president.
Formed in 1960, Teen Age Republicans (TARS) is a national, youth-led organization challenging teens to become involved in their local, state, and national political processes. "TARS across the nation sway elections, gain first-hand knowledge of the political process, develop leadership skills, and perform community service acts in their communities," its website states. National TARS has clubs in all 50 states and the District of Columbia. Clubs are organized on and off campus into middle school, high school, homeschooled, county and city clubs. Karl Rove and Lee Atwater are notable TAR alumni.
Here, Y-Press journalists share the stories of two youth active in Republican politics—both also delegates (among the youngest) to the 2012 Republican National Convention. They also profile a Maryland high school student who started an ACLU chapter at her high school and fought a measure to set a curfew in her county.
An appetitie for civil political discourse and a willingnes to reach across the aisle imbue these three young political activists. Washington, take note.
Evan Draim, 17, Alexandria, Virginia
by Greta Herbertz, 14, Y-Press
In middle school, Evan Draim attended a Republican state convention in Virginia. It sparked his interest in politics and in 2010 he founded the Coalition for a Conservative Future. This year he will be a delegate to the Republican National Convention in Tampa in August.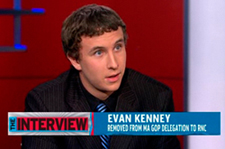 For the coalition, Evan's responsibilities include speaking out on such issues as government spending and illegal immigration. He also endorses candidates who are most in line with conservative principles, including Mitt Romney, whom he feels will best preserve American values and the U.S. economy. Right now his organization is focused on opening up new chapters to serve youth with conservative values, helping to staff volunteer centers for conservative candidates, and helping register youth to vote.
According to researchers, young voter turnout increased from 2004 to 2008, but fewer youth are expected to turn out for the 2012 election. Do you have any ideas why this might be?
I think it's kind of ironic because I think that the issues of 2012 actually are more important for youth than they were in 2008, purely because the federal debt has increased so much. But I think the reason that young people are hesitant is that in 2008, young voters pretty overwhelmingly backed President Obama, and the results have not been what they expected. And so voters who first voted in 2008 and who felt really optimistic about casting their ballot and changing the future of the country, now feel kind of apathetic.
How would you describe your organization?
The Coalition for a Conservative Future is kind of a nationwide group of high school conservatives who have banded together to kind of show their peers how the conservative ideology is working for the benefit of younger Americans. And one way that we do that is by communicating about the issues in a way that young people can understand. We're an entirely student-run organization, and the way that we talk about issues on our website, and the way that we communicate issues to our peers, is we first talk about how an issue affects young people before we talk about the solution. Because often we feel that a lot of people in their teenage years and college years don't necessarily realize yet how much the politics of today are going to impact their future.
So up to now, what do you consider your biggest success?
Well I consider my biggest success really to be motivating other young people to realize that they can change the course of a political party, and really to extend that to the nation. I ran for delegate in the 8th District against a lot of people who were much more established. And my candidacy and my eventual win, I think, showed young people who were at that convention and other young people who have heard about it since that they can run for these positions, that they can get elected and that they can help change the face of Republican politics and American politics if they have the right vision, and if they have a new kind of perspective to bring to the table, regardless of their age.
Kristin Middleton, 21, Tempe, Arizona
by Hrishi Deshpande, 17, Y-Press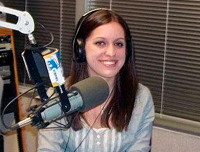 Kristin Middleton says she's always been more interested in politics "than the average kid." However, her activism really took off two years ago when she interned with Sen. John McCain's Senate re-election campaign. The following year, she joined Arizona State University's College Republicans chapter, becoming its president in April.
She says that her experience working with a political campaign really spurred her interest in politics as she developed contacts and became more active in the Republican Party.
Her activism is definitely paying off. She will be attending the 2012 Republican National Convention as the youngest member of the Arizona delegation.
So once you decided you wanted to be a delegate, how did you go about being selected?
So when I decided I wanted to be a delegate, I started talking to people and getting my name out there and letting people know who I was. And the way the delegate process works is that there's a state convention in every state, and at the state convention, the people there elect who they're going to send to the national convention. A little bit before the state convention, I contacted the Romney campaign in Arizona and told them who I was and told them how great it would look if a young person was able to go, and they agreed with me, so they put me on their platform … and then at the state convention, I was elected to go.
If you could bring any piece of legislation to the floor of Congress, what would it be? I would definitely, for sure, bring legislation to protect the borders and for a stronger border 'cause I'm from Arizona, so I definitely see the consequences of allowing illegal aliens to just come into the country.
What advice would you give to other young people who want to become politically involved?
Don't be afraid to try. In my first internship two years ago with Senator McCain's Senate campaign, I remember feeling really timid and that this was just a completely different world than I had ever been in. Just try and get your name out there and don't be afraid to send your resume into places 'cause you never know what opportunities will happen for you.
Zoe Dobkin, 17 Potomac, Maryland
by Leeann Sausser, 18, Y-Press
Zoe Dobkin knows that government has a large impact on youth and has stepped up to make sure her voice is heard. For the 2008 presidential election, she and her aunt went canvassing in a lower middle-class neighborhood in Pennsylvania and e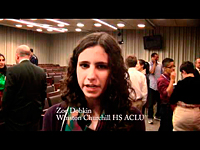 njoyed discussing the issues with people face-to-face. Because Pennsylvania was considered a swing state for the candidates, Zoe felt she "was really making a difference."
Last summer, she interned with the Washington, D.C., affiliate of the American Civil Liberties Union, which inspired her to start an ACLU chapter at her high school and fight a measure to set a curfew in her county. The chapter is going strong and while the measure was tabled, Zoe is confident that it will not be brought up again.
This fall, Zoe will not only be attending Georgetown University but also serve as the chair of the ACLU's Future Leaders Council, where she will be in charge of political events aimed at youth. A supporter of the Democratic Party, she also hopes to be involved with the election by phone banking and through opportunities at her college.
How would you describe ACLU?
The American Civil Liberties Union is such a great organization. It's nonpartisan and it doesn't receive any government funding, and I actually believe it helps defend freedom and uphold the ideals, not only of our Constitution, but also ideals geared towards helping our society become more tolerant of one another.
What do you consider your biggest success as part of the organization?
I would say being more enlightened about the civil rights and civil liberties issues in our local area and also around the country, and bringing in others so that they become more educated about the issues. I really didn't know that much about D.C. statehood. I didn't know that much about the problem, and I didn't know that much about ways to find a solution. And then also, like when we were combating the curfew, I learned so much about my local government and ways to get more involved and to learn about issues that I care about that are happening right in my neighborhood, which I thought was really important.
What do you think about the changes in youth involvement in the 2008 and 2012 presidential elections?
Our rhetoric and momentum have kind of slowed down, which makes sense. After four years of a president, of course he's going to make some mistakes and everybody won't be as gung-ho as they were before. And, you know, I really don't see a lot of those YouTube videos coming out. There was a really powerful one from Will I Am, the "Yes We Can," the Barack Obama song, and I know like almost all my friends saw that. So I don't really see a lot of YouTube campaigns aimed at getting youth involved.
And I think youth are maybe a little more pessimistic, but I mean I still see my friends doing phone banking and stuff, so I'm not too worried. But I do hope that the youth vote comes out in as big or bigger numbers as the 2008 election because we really could determine it for sure.
See additional profiles » » DOWNLOAD PDF OF ALL 20 PROFILES »
To get a youth perspective on the 2012 Presidential Elections, WKCD has teamed up with the youth-led news bureau, Y-Press, based in Indianapolis. Originally part of the Children's Express, Y-Press has nurtured young journalists for more than 20 years. Their stories and articles—on local, national, and global topics—appear every other week in the Indianapolis Star. The Y-Press web site is updated regularly and encourages external submissions and comments about youth-written stories and reviews.
Here, Y-Press reporters will be posting: stories about the campaign, the candidates, and youth perspectives on the political process profiles and interviews with young political activists results from surveys they've created to gather information from youth nationwide about the candidates and the issues most important to young people reports from the floor at both of this summer's national conventions. Check back often to keep up with this special "youth beat" on Election 2012.