---

Much more than "click activism": youth, politics, and technology
August 28, 2012
by Sigal Tavel, 16, and Alaina Bradds, 17, Y-Press
INDIANAPOLIS, IN—In many ways, youth were invigorated by the presidential election of 2008. Here were candidates—Barack Obama in particular—using Facebook and MySpace to reach out to them, and they in turn responded with YouTube productions and unique Web pages.
In 2008, the Internet kept youth informed and involved in the presidential campaigns as never before. Says Stephen Gordon, 21, who was active that year with Mikva Challenge, a nonpartisan organization in Chicago that works to encourage civic involvement among youth: "I think candidates tried to restructure the way they ran in political elections and reached out by using more social media, by contacting us face-to-face and, you know, having people on the trail and making sure that they kept in touch with the younger generation."
So far in 2012, youth have not set Internet lines abuzz with demonstrative shows of support for any candidate. But much of that enthusiasm may still be underground, intertwining like-minded activists even further.
This year, experts are seeing the birth of a new kind of political activism, one where technology plays a pivotal role. Deemed "participatory politics," young people are using the Internet to effect real change as opposed to the popular misconception of "click activism"—in which a click online is a substitute for action.
Digital natives
Take for example the campaign initiated by Molly Katchpole on Change.org. Over a period of just three days in October 2011, Molly, then 22, of Washington, D.C., managed to get 75,000 people to sign a petition protesting Bank of America's proposed debit card fee. Ultimately, over 300,000 people signed and an additional 21,000 pledged to close their Bank of America accounts. Bank of America reversed its decision to charge customers.
Youth, oftentimes called digital natives, are continuing to use the Internet in innovative ways to be civically engaged and to benefit the country as a whole. According to Participatory Politics: New Media and Youth Political Action, a project of the MacArthur Research Network on Youth & Participatory Politics, youth who engaged in online political activity—such as sending friends links to articles via Twitter or Facebook—are twice as likely to report that they vote as people who did not get involved online. Forty-one percent of the young people in the study reported engaging in such acts of participatory politics.
"Anyone who cares about democracy needs to pay attention to this important dimension of politics for young people—participatory politics spread information, mobilize individuals to act, and provide many ways for youth to voice their perspectives," said Joseph Kahne, professor of education at Mills College and YPP investigator, upon release of the study.
Connecting across space
Michael Butler, 17, of Dahlgren, Ill., is part of this network of engaged youth. He writes for the online, youth-driven High School Conservative.
Michael finds social media particularly useful for contrasting other viewpoints with his own. He lives in a remote area of southern Illinois, and most of his friends think like he does, he says. "Twitter is a really good way to see a Libertarian's opinion and a Democrat's opinion, a Green Party member's opinion."
Mary Gray, associate professor of communications and culture at Indiana University, sees social media as a way for youth who are isolated geographically or politically to get involved. "I think for young people in states and counties where electoral politics haven't changed their lives that much, … to be able to go online and talk about what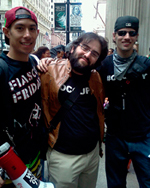 matters to them, to be able to talk about other ways that they'd like to spend their energy and time, that's really productive."
It was particularly productive for 23-year-old David Oloroso, who works full time for Occupy Chicago. He said Occupy Chicago had to rely on technology because it was not able to set up an "occupation" in one spot in the usual sense. "We kind of learned to be more mobile and more agile, worked in different areas of the city, did community outreach, whereas a lot of occupation had to kind of deal with the logistics of having a camp, holding down, staving off raids and crackdowns," he said.
Besides being uprooted, Occupy Chicago had to deal with a complete media blackout of Occupy events for its first few weeks. "The fact that we could not get our message out through the major media, we had to kind of create our own ways," he said. "And usually that became social media, so it was a lot of Facebook, Twitter provided a lot of up-to-date and up-to-the-minute details on what was going on, as well as live streaming, which is an effective tactic for transparency within the movement," he said.
"It was a really easy way to talk to people who otherwise couldn't partake in a protest, to follow them and still be involved."
Becoming informed
For youth, the Internet is not only their way to have a voice, but also a way to learn.
"We're living in an extraordinarily exciting time when it's really most incumbent upon youth and very easy for them to get involved," said Daniel Kreiss, a journalism professor at the University of North Carolina. "There is more political information out there than at any time in human history, and I think that their challenge is to become knowledgeable, educated and deliberative citizens and to take political action and engage in political debate."
While the ocean of information can be tricky to handle in and of itself, Evan Draim, 17, founder of Coalition for a Conservative Future and a delegate to the Republic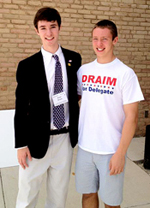 an convention from Alexandria, Va., says the most crucial part of participatory politics is finding a way to connect teenagers to pertinent information.
"The challenge is making it easy for young people to add politics into their life. You either make meetings during schooldays when they are regularly available, or you send them email updates to remind them that an election's coming up," he said.
Evan also works to ensure that the platforms of Mitt Romney and other conservative candidates are understandable to youth." The Coalition for a Conservative Future exists to take those conservative principles, to take Romney's economic plan, which an older voter may be perfectly fine with and be able to research and understand, and make sure young people are also comprehending that and understanding why it's for their benefit."
Indeed, young people are more receptive to their peers, and they are more comfortable reaching out to other teenagers rather than to adults.
"When you hear an opinion from someone your own age, you're more likely to listen to it or take it into account," says Michael. "Because like when a teacher says, 'Hey, go do this,' you're like, 'Well, that's just an old person.'"
The pros and cons of social media
While Facebook and MySpace were the main social connectors among youth in 2008, Twitter is much more of a force today. Its use has increased exponentially in the four years since the last presidential election, not only allowing youth to follow the minute-by-minute ruminations of like-minded teenagers like themselves, but also those of political figures and news sources as well.
That is, if they are so inclined. In a recent Y-Press survey of 400 youth across the country, approximately 55 percent said they took note of breaking news on Twitter and other social media sites. However, about 85 percent of them said they relied on traditional media sites for "hard news," including that concerning politics.
"It's easy to get your news from Twitter with all these millions of people who are tweeting things," says Allie Dean, 17, of Indianapolis. "But you have to take into consideration that not all of these people like completely understand what the situation is and what's going on."
The 2012 candidates have responded by improving their use of Twitter, posting their evolving stands on issues and positions as well as constant updates from the campaign trail. The downside is that this information flows only one way, rather than the ideal dialogue between politician and American citizen.
To Gray, this is a troublesome development. "A lot of political campaigns are now tweeting breaking news rather than doing press conferences," she said. "That changes how they relate to [reporters]. Actually having a conversation really means you have to be willing to be in dialogue."
Another increasingly disturbing shift is that campaigns are using technology to delve ever deeper into the lives of supporters and potential voters. Instead of just being a quick way to keep in touch, the Internet is being used to gather data about specific groups of people they want to target as well as to set up online donations, Kreiss said.
While youth appreciate all that technology can do, they recognize that there are some limitations. Ian Kea, 17, vice president of Indiana High School Democrats, says his group is not relying on Facebook and Twitter to drum up support for President Obama.
"Grassroots campaigning gives you a personal connection with the voter which you can't get with social media outlets," he explained. "It's kind of like writing and sending a thank-you card in the mail compared to emailing an e-card. Returning to some basics can get more potential voters, which is necessary when the voter turnout is below 60 percent on average."
To get a youth perspective on the 2012 Presidential Elections, WKCD has teamed up with the youth-led news bureau, Y-Press, based in Indianapolis. Originally part of the Children's Express, Y-Press has nurtured young journalists for more than 20 years. Their stories and articles—on local, national, and global topics—appear every other week in the Indianapolis Star. The Y-Press web site is updated regularly and encourages external submissions and comments about youth-written stories and reviews.
Here, Y-Press reporters will be posting: stories about the campaign, the candidates, and youth perspectives on the political process profiles and interviews with young political activists results from surveys they've created to gather information from youth nationwide about the candidates and the issues most important to young people reports from the floor at both of this summer's national conventions. Check back often to keep up with this special "youth beat" on Election 2012.