---
San Diego Students Explore Deeper Perspectives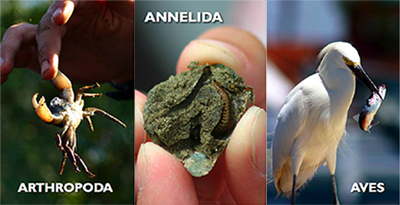 SAN DIEGO, CA—Holding a meter-square contraption made of white PVC pipes, a few students crouch over a patch of tide-washed sand, counting the limpets and barnacles they find within the transect. Up the shore, classmates are using a laser leveling device and a pole to measure off the tide's height at regular intervals. Others poke around the water's edge, turning over rocks or following the path of a shorebird. A few solitary students sit at a distance with notebooks, writing or drawing in response to the urban seascape before them.
Like the explorers who sailed into this bay 300 years ago, 56 students at High Tech High in San Diego have discovered a new world in their urban neighborhood, where land meets sea—and where schoolwork actually matters.
Behind the scenes with biology teacher Jay Vavra
"Over three months, we made nine field trips to the Bay. Each trip took three to four hours, during the school day. We had to time our field excursions with the heavenly bodies and the tides, because we could only go out when the creatures are available to see, at an extreme low tide."
For three months in spring 2005, an eleventh-grade High Tech High teaching team centered its math, science, and humanities coursework on an ambitious investigative project. In expeditions to sites around the nearby bay, students carried on the tradition of the explorer's log, rendering close observations—scientific, cartographic, etymological, even poetic and political—for others who might follow.
Now those students have brought their work to the public, as a striking and useful field guide called Perspectives of the San Diego Bay. The 240-page book, which they designed and produced themselves with support from a small WKCD Student Research for Action grant, already has found an eager audience in local and national environmental groups.

Writing with a purpose
For its authors, that means more than any A on their report cards. "Every kid has that question, 'Where am I going to use this in the real world?'" says Evan Morikawa, one of the guide's chief student editors. "Well, you can't get much more attached to the real world than this. My friends are like, 'I'm studying for finals right now,' and I'm like, 'Well, I'm going to make and publish and print and sell a book!'"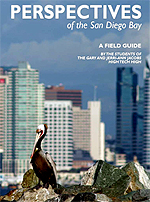 Beautifully illustrated and designed, filled with color photographs, maps, and charts, the field guide teems with life, energy, and detailed information. It stands on its own as a naturalist's guide, identifying, analyzing, and quantifying the life forms found in the bay's intertidal zones and harbors. A student-written history of mapmaking by early explorers segues into a state-of-the-art overview of present-day biogeography, with students using sophisticated GIS mapmaking technology to represent their data. And in the tradition of the adventurer's log, students offer philosophical perspectives on the worlds they observe, in reflections, poems, and commentary pieces.
Not least, these young authors have an explicit public purpose: to awaken San Diego to the potential destruction of its Bay, as the balance grows ever more precarious between their city's natural life, industry, and commerce. "Most San Diegans have been down to the Bay," said Josefina To, a High Tech High eleventh grader who helped write the grant proposal for the project. "But we know very little about its biodiversity or its habitats."
Strong Models Across Disciplines
Student reflections on the project
"It took a lot of teamwork trying to figure out what people want out of the graphs. We had many rows of data out of the transects—so how do we get that on a piece of paper in the field guide, so the average person can immediately pick up what is being presented?" (Peter)
The guide's professional contents and appearance derive in part, says High Tech High biology teacher Jay Vavra, from their teachers' decision to begin with students examining strong models from across the disciplines.
For a pilot project last year, Tom Fehrenbacher's humanities class read The Log from the Sea of Cortez, a 1940 travel log written by John Steinbeck and his friend Ed Ricketts, director of Pacific Biological Laboratories. "It mirrored our project, in creating an eclectic field guide," said Vavra, "not just about the creatures but more about how we can interact with organisms and also see ourselves in them." This year students pored over Jared Diamond's Collapse, applying its benchmarks for the decline of societies to the current situation of the San Diego Bay.
In biology class, students read and critiqued some twenty other guides for naturalists, "pulling out what they thought was interesting and appropriate for a field guide," Vavra said. Several calculus students in Rod Buenviaje's math class last year used Fourier analysis to schedule school-day research trips so they coincided with the necessary low-low tides. And using a National Science Foundation grant to two local colleges, professors taught the student researchers how to use Geographic Information System technology.
The investigation itself was unglamorous, even grueling. But students made the smallest task their own, coloring their scientific entries with vivid or irreverent observations. The great blue heron's call is low and heavy, like "an old rusty car door opening," they write. Snowy egrets "also feed on crustaceans, frogs, and if you're at Sea World, churros." Some raptors "even steal the nests and habitats of other birds because they do not feel like creating ones for themselves." Advice on a family tour to the Boat Channel reads, "Integrate sunbathing activities on the broken slabs of sharp concrete walls with the identification of different vermin that live along and among those slabs."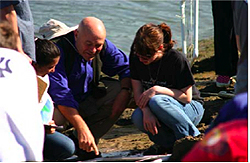 Whether writing about sponges or pelicans, sea lions or the homeless human population that frequents the Bay, the student authors also cast a thoughtful eye on interdependence and sustainability in San Diego's turbid mix of the military, industry, tourism, and nature. One section describes the effects of boat paints on marine life; one takes note of how Coronado Island's socioeconomic elite isolates itself from the city's pressing problems.
Even the students' poetry evokes interconnectedness; from the Boat Channel, Khoa Tran writes: "I cast my feet and hands into the sea / Let my head lie by the dry sand / Wither away wither away / I have barely made a scratch / 'will I be remembered?' echoes in the far distant / From where my reality came..." In the existential sense, this young poet may have a point. But from the evidence High Tech High students have put forward in Perspectives of the San Diego Bay, they need not worry that anyone will forget them soon.
Click below to:
Download a PDF (2.7 MB) of excerpts from Perspectives of the San Diego Bay: A Field Guide.
Download a PowerPoint (1.4 MB) detailing the team's research methods and data collected.
Read a WKCD interview with teacher Jay Vavra.
Read student reflections on the project.
Connect to Perspectives of the San Diego Bay at Next Generation Press.